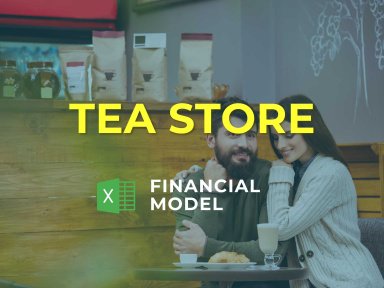 Tea Store Pro Forma Template - FREE TRIAL
Try Tea Store Budget Template. Enhance your pitches and impress potential investors with the expected financial metrics.

by Henry Sheykin
400+ Financial model templates
Follow 469
Description
This TRIAL will provide you with the idea of how the Tea Store - Premium Version is structured and you will familiarize yourself with the END product before purchase.

You may check printable reports and use content to navigate the model tabs.

You may see pop-up notes and understand how the model works.

More details about the Tea Store - Premium Version are here:

https://www.eloquens.com/tool/yZj0tral/finance/retail-financial-model-excel-templates/5y-tea-store-pro-forma-template

Model Highlights

Five-year tea store 3 way financial model for startups and entrepreneurs to impress investors and get funded. Key financial charts, summaries, metrics, and funding forecasts built-in. Created with the mind of the tea store business.
Tea Store Financial Projection Template Excel used to evaluate startup ideas, plan startup pre-launch expenses, and get funded by banks, angels, grants, and VC funds. Unlocked - edit all - last updated in Sep 2020.

Model Overview

No matter where you are in the business development stage, a sophisticated 3 way forecast model for the tea store will help you. Excel knowledge or financial planning experience is NOT required!

TEA STORE EXCEL PRO FORMA KEY FEATURES

Better decision making
Make better operational decisions with the help of creating Cash Flow Forecast scenarios in your Excel Template. Perhaps you have to choose between new staff members or investment in equipment, and you are wondering which decision to chose. Variants forecasting will give you the information you need to make these decisions with confidence that you know what impact they will have on your cash balance.

Convince investors and lenders
Enhance your pitches and impress potential financiers with a Pro Forma Template delivering the right information and expected financial and operational metrics. Facilitate your negotiations with investors for successful funding. Raise money more quickly and refocus on your core business.

Saves you time
Cash Flow Proforma Template allows you to spend less time on finances and more time on your products, customers and business development

Build your plan and pitch for funding
Impress bankers and investors with a proven, solid tea store financial model that impresses every time.

It is part of the reports set you need.
It doesn't matter you are worried about cash or not, setting up, and managing a Tea Store Cash Flow Format In Excel should be a cornerstone of your reporting set. It's the main report of your business that must have in place to grow sustainably. Before you rush into rent more office space or making a new hire, you should always run a Cash Flow Forecast scenario. You can model how that action would impact your cash balance in the nearest future. Knowing whether or not plans are possible is crucial to minimizing risk.

We do the math
Budget Financial Model has all the required features ready with no formula writing, no formatting, no programming, no charting, and no expensive external consultants! Concentrate on the task of planning rather than programming.

REPORTS and INPUTS

Valuation
Our Tea Store Three Way Financial Model has two integrated valuation methods. It has a discounted cash flow (DCF) and the weighted average cost of capital (WACC) calculations to show a company's forecasted financial performance.

Top Revenue
The top line and bottom line are two of the most important lines on a company's projected income statement. Investors and analysts pay special attention to the company's revenue and profits and carefully monitor any changes regarding these financial metrics from quarter to quarter and year to year.

The top line of the projected income statement refers to a company's revenues or gross sales. Therefore, when somebody says that the company has 'top-line growth,' it means that the company is experiencing an increase in gross sales or revenues, which should positively impact other company's financials and overall performance.

Cash Flow KPIs
Cash balance. The cash balance shows the total amount of money in a financial account of the company. Any company needs to hold in reserve enough amount of cash to meet current obligations.

Sources and Uses
The Sources and Uses statement in our Tea Store Financial Projection Template Excel shows users that financial planning does not have to be complicated. This statement shows the company's stakeholders, e.g., lenders, how much financing the company needs, and how it plans to get it. There may be cases when the company does not need more funding. It wants to show its current investors that it has additional or alternative funding sources it can attract in case of unexpected events. These additional sources of funding may be interesting for banks, for example.

While putting together the Sources and Uses statement, companies and especially start-ups can include alternative funding sources, such as crowdfunding campaigns.
Another part of the Sources and Uses statement is the ways the company plans to use obtained funds. The total figure in this section should balance with the figure if the 'Sources' section, i.e., both parts of the Sources and Uses section, should balance.

Cap Table
The Tea Store Pro Forma Template has built-in proformas to calculate discounted cash flows and various sales' and EBITDA valuations. Business owners can use these valuations to assess the exit value and perform the financial projections of returns to investors.
Users can use the Cap table or ignore it; it will not have a negative impact on the other financial calculations in the model.

Loan opt-in
Our Financial Projection has a built-in loan amortization schedule with both the principal (i.e., the amount of loan borrowed) and the interest calculation. A loan amortization schedule template will calculate your company's payment amount, including the information on the principal, interest rate, time length of the loan, and the payments' frequency.

Financial KPIs
Key performance indicators (KPIs) in the Financial Model Excel Spreadsheet are crucial for both the company owner and for an investor. With the help of these metrics, you track your company's financial performance and assess the efficiency of business models and cost structures. You can use them to make you and your co-founders laser-focused on the targets you set.

<----->

Increase your productivity with Excel Templates. Plan future Cash Flow Statements to avoid Cash Flow shortfalls. Manage finance with Budgeting Spreadsheets.

Welcome to FinModelsLab.com


- Henry Sheykin
https://www.eloquens.com/channel/henry-sheykin
This Best Practice includes
1 FREE TRIAL Tea Store Financial Model Excel Template
Henry Sheykin offers you this Best Practice for free!
download for free
Add to bookmarks