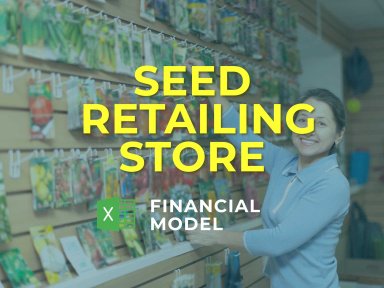 Seed Retailing Store Pro Forma Projection - FREE TRIAL
Get Seed Retailing Store Financial Projection Template. Creates a financial summary formatted for your Pitch Deck.

by Henry Sheykin
400+ Financial model templates
Follow 459
Description
This TRIAL will provide you with the idea of how the Seed Retailing Store - Premium Version is structured and you will familiarize yourself with the END product before purchase.

You may check printable reports and use content to navigate the model tabs.

You may see pop-up notes and understand how the model works.

More details about the Seed Retailing Store - Premium Version are here:

https://www.eloquens.com/tool/bbjVHdv0/finance/retail-financial-model-excel-templates/seed-retailing-store-excel-pro-forma-projection

Model Highlights

Five-year horizon financial model in excel template for the seed retailing store business for early-stage startups to impress investors and raise capital.
Consider using Seed Retailing Store Financial Model Excel before buying the seed retailing store business. Unlocked - edit all - last updated in Sep 2020.

Model Overview

Generate fully-integrated seed retailing store p&l proforma, cash flow statement forecast, a break-even analysis projections for 5 years (on a monthly basis). Automatic aggregation of annual summaries on the financial summary report.

SEED RETAILING STORE THREE WAY FINANCIAL MODEL KEY FEATURES

Saves you time
Allows you to spend less time on Cash Flow Projection and more time on your products, customers and business development

Plan for Future Growth
Projected Cash Flow Statement Format can help you plan for future growth and expansion. No matter you're extending your company with new employees and need to take into account increased staff expenses. Or to scale production to keep up with increased sales, future projections help you see accurately where you're running — and how you'll get there. Forecasting is also a well-known goal-setting framework to help you plan out the financial steps your company has to take to reach targets. There's power in Cash Flow Statement By Month and the insight they can provide your business. Fortunately, this competitive advantage comes with little effort when you use the Cash Flow Projection.

Saves you time
Financial Model Excel allows you to spend less time on finances and more time on your products, customers and business development

Save time and money
Via Financial Projection Model Template you can without effort and special education get all the necessary calculations and you will not need to spend money on expensive financial consultants. Your task is building a strategy, evolution, and creativity, and we have already done the routine calculations instead of you.

Get a Robust, Powerful and Flexible Financial Model
This well-tested, robust and powerful Seed Retailing Store Financial Projection Model is your solid foundation to plan a business model. Advanced users are free to expand and tailor all sheets as desired, to handle specific requirements or to get into greater detail.

Track your spending and staying within budget
Have you written a vague idea of cash inflows and cash outflows on the back of a napkin? All is well and good. Looking at the forecasted income statement will give you a snapshot of the past business performance, but it won't show the future in terms of the Startup Cash Flow Projection. With a statement of cash flows, you can plan future cash inflows and cash outflows and compare it to the budget, which can be invaluable information.

REPORTS and INPUTS

Cap Table
The P&L Projection and its Capitalization table (or Cap table) summarizes your investors' information, their share in the company, and how much they have paid for these shares.

Performance KPIs
Return on capital. The return on capital reflects the correspondence of the Balance Sheet and Income Statement. Return on capital measures the accomplishment of earnings to the capital employed.
Companies with good financial management have good returns.

Dashboard
Our Pro Forma Budget has an all-in-one dashboard. This dashboard is a useful financial planning tool that helps financial professionals create fast, reliable, and transparent financial reports to the management and other company's stakeholders.

With this financial dashboard's help, users can assess the company's financial data, drill into financial details, or validate figures fast and easy. Our specialists understand that the company's financial management, especially the start-up's management, is under pressure to deliver fast decisions and results. This all-in-one financial dashboard is an effective financial tool that will help with these tasks.

With this dashboard, you will get data at your fingertips. You will be able to perform financial analysis, assess key performance indicators (KPIs), and other financial information you may need to generate actionable insights and make wise financial decisions.

Financial Statements
The Seed Retailing Store Budget Financial Model has a pre-built integrated financial statement structure. It has pre-built templates for the primary financial statements: Balance sheet, profit and loss proforma, cash flow statement by month, and Statement of Shareholders' Capital. All these financial statements are precisely defined and interconnected with the inputs and other spreadsheets within the model.

Financial KPIs
Key performance indicators (KPIs) in the Pro Forma Projection are crucial for both the company owner and for an investor. With the help of these metrics, you track your company's financial performance and assess the efficiency of business models and cost structures. You can use them to make you and your co-founders laser-focused on the targets you set.

Costs
A Seed Retailing Store Pro Forma Template Excel is an important financial tool that enables users to identify actual and forecasted expenditures, as well as financial resources needed to cover these costs. With a well-developed cost budget, you can see the areas where you can save money and the areas of high priority. As a part of a business plan, the cost budget supports the process of pitching to investors and loan applications.

Operational KPIs
Financial graphs and charts in this Seed Retailing Store Pro Forma Template Excel help the stakeholders visually track liquidity, budgets, expenses, cash flow, and many other company financial metrics. These graphs will also help a company's management avoid problems by reflecting its financial data in real-time, with a comprehensive financial information overview.

These operational performance graphs will help the business owners and financial managers ensure the best possible performance and financial health of their company because regular financial analytics procedures and the highest quality of financial data are the company's top priorities.
Our financial graphs will also help the company's financial specialists raise financial issues at the general meetings and deliver understandable financial information to other departments and external stakeholders.

<----->

Increase your productivity with Excel Templates. Plan future Cash Flow Statements to avoid Cash Flow shortfalls. Manage finance with Budgeting Spreadsheets.

Welcome to FinModelsLab.com


- Henry Sheykin
https://www.eloquens.com/channel/henry-sheykin
This Best Practice includes
1 FREE TRIAL Seed Retailing Store Financial Model Excel Template
Henry Sheykin offers you this Best Practice for free!
download for free
Add to bookmarks