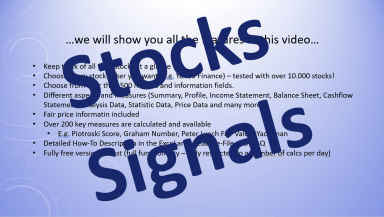 Stock Viewer and Trendsignals (Free Version, MacOS+Win)
With this program you keep track of your stocks and keep informed of every trend change.

by RapidTech1898
IT-Consultant in Finance
Follow 47
Description
With this program you keep track of your stocks and keep informed of every trend change. You can choose from over 80 trend signals - which are automatically checked at any time!FREE VERSION - full functionality only restricted to a limited amount of daily updates.Key Features:Keep track of all your stocks at a glance !Choose every stock ticker from eg. Yahoo Finance – tested with over 10.000 stocksGet an up to date overview with 80 measures (Price, Industry, Company Infos, Volumes, Dividend Infos, PE-Ratio, Profit Margins, Forward EPS, Shares, Book Value, NetIncome, Dates, etc.)Check signals for consolidation, breaking out and many moving average indicatorsCheck over 60 trend patterns like Doji, High Wave Candle, Hikkake, Hanging Man, Spinning Top, …)Check the patterns for daily data from the last year and also intraday from the last dayOptional email-alert – you can customize in which signals your are interestedParameters for day and percent customization for the consolidation and breaking out signalsDetailed How-To Description in the Excel and ReadMe-File with FAQFully free version to test (full functionality – only restricted to a number of checks per day)Stock-Infos:regularMarketPrice zip sector fullTimeEmployees city phone state country website address1 industry previousClose regularMarketOpen twoHundredDayAverage trailingAnnualDividendYield payoutRatio regularMarketDayHigh averageDailyVolume10Day regularMarketPreviousClose fiftyDayAverage trailingAnnualDividendRate open averageVolume10days dividendRate exDividendDate beta regularMarketDayLow currency trailingPE regularMarketVolume marketCap averageVolume priceToSalesTrailing12Months dayLow ask volume fiftyTwoWeekHigh forwardPE fiveYearAvgDividendYield fiftyTwoWeekLow bid dividendYield dayHigh exchange shortName longName exchangeTimezoneName exchangeTimezoneShortName quoteType symbol market enterpriseToRevenue profitMargins enterpriseToEbitda 52WeekChange forwardEps sharesOutstanding bookValue sharesShort sharesPercentSharesOut lastFiscalYearEnd heldPercentInstitutions netIncomeToCommon trailingEps lastDividendValue priceToBook heldPercentInsiders nextFiscalYearEnd mostRecentQuarter shortRatio sharesShortPreviousMonthDate floatShares enterpriseValue lastSplitDate lastSplitFactor lastDividendDate earningsQuarterlyGrowth dateShortInterest pegRatio shortPercentOfFloat sharesShortPriorMonth logo_urlPatterns:Two Crows Three Black Crows Three Inside Up/Down Three-Line Strike Three Outside Up/Down Three Stars In The South Three Advancing White Soldiers Abandoned Baby Advance Block Belt-hold Breakaway Closing Marubozu Concealing Baby Swallow Counterattack Dark Cloud Cover Doji Doji Star Dragonfly Doji Engulfing Pattern Evening Doji Star Evening Star Up/Down-gap side-by-side white lines Gravestone Doji Hammer Hanging Man Harami Pattern Harami Cross Pattern High-Wave Candle Hikkake Pattern Modified Hikkake Pattern Homing Pigeon Identical Three Crows In-Neck Pattern Inverted Hammer Kicking Kicking - bull/bear determined by the longer marubozu Ladder Bottom Long Legged Doji Long Line Candle Marubozu Matching Low Mat Hold Morning Doji Star Morning Star On-Neck Pattern Piercing Pattern Rickshaw Man Rising/Falling Three Methods Separating Lines Shooting Star Short Line Candle Spinning Top Stalled Pattern Stick Sandwich Takuri (Dragonfly Doji with very long lower shadow) Tasuki Gap Thrusting Pattern Tristar Pattern Unique 3 River Upside Gap Two Crows Upside/Downside Gap Three Methods
This Best Practice includes
1 program, 1 excel, 2 readme-files
RapidTech1898 offers you this Best Practice for free!
download for free
Add to bookmarks