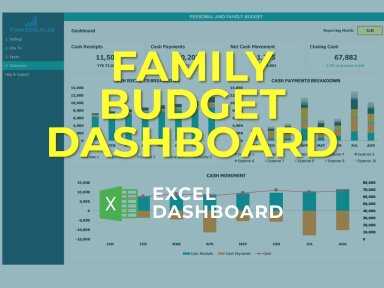 Personal and Family Budget Dashboard
Download simple and smart personal budget template. Plan the expected income and expenses of household

by Henry Sheykin
400+ Financial model templates
Follow 469
Description
Making a Personal Budget for your family unit can feel overpowering and hard, yet Excel can assist you with getting coordinated and on target with an assortment of free and premium planning templates. The reason for a Personal Budget is to sum up what you acquire against what you spend to help you plan for long and momentary objectives. Utilizing a planning spreadsheet can help focus on your financial wellbeing by holding spending under control and reserve funds on the ascent!

Personal Budget Key Features

- Categories for income and expenses

- Space to estimate your monthly earnings and expenses

- A place to record actual earnings and spending

- A place to record the difference between the two

- Track your income and expenses


Personal Budget available visualisations

- Smart cash with Money in Excel | Money in Excel is a powerful template for Excel that can help you feel more in charge of your cash. It's the solitary template where you can safely associate your financial organizations to import and synchronize record and exchange information into an Excel spreadsheet. Track every one of your funds in a single spot, redo your exercise manual, and get customized tips while never leaving Excel.

DIY with the Personal spending template | Prefer to do things yourself? This Excel template can help you track your month to month financial plan by pay and expenses. Info your costs and pay, and any distinction is determined consequently so you can evade deficits or make arrangements for any projected overflows. Contrast projected costs with genuine costs with sharpen your planning abilities after some time.

Track month to month expenses | Utilities, Mastercards, and protection are charged month to month, so the least demanding approach to watch out for expenses is to decide the amount you spend consistently.

Pay thoughtfulness regarding variable expenses | While gas and telephone charges by and large don't fluctuate in sum month over month, different expenses, for example, feasting out or garments shopping, can shift uncontrollably.

Fixed expenses | Fixed expenses stay a similar sum month to month. Models incorporate a home loan or lease, medical coverage, a vehicle installment, or house taxes. You can catch these in a ""fixed expenses"" classification.
This Best Practice includes
1 Personal and Family budget dashboard
Henry Sheykin offers you this Best Practice for free!
download for free
Add to bookmarks