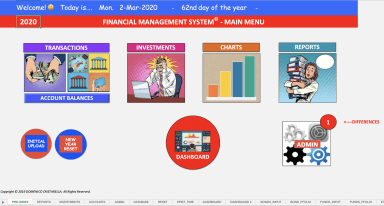 Financial Management System Model - NEW 2022 RELEASE
Fully fledged financial management package for private investors and small financial service businesses.
Domenico Cristarella offers you this Best Practice for free!
download for free
Add to bookmarks
Further information
Comprehensive all-in-one tool to handle all sorts of financial management needs, from setting a budget and controlling daily spending to reconciling account balances, from recording different types of investments to calculating actual returns and monitoring net worth and profitability over time. Supporting wealth management and redefinition of investment strategies.
Ideally suited for:
• provate investors who handle their own investments or want to keep a tight control on how their money is being managed;
• Financial Advisors, Money Managers, Accountants, Controllers;
• Finance students or anyone who wants to improve on their financial knowledge through practice.