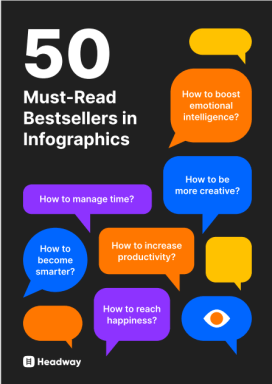 50 Must Read Outstanding Books Bestsellers in Infographic | World's best book ideas in one piece
50 Must Read Outstanding Books Bestsellers in Infographic | World's best book ideas in one piece

by Rahim Zulfiqar Ali
Founder & CTO - XLR8 Tech Solutions, CEO - Excel Basement, Excel & POWER BI Trainer & Consultant, MBA (MIS), MCT, MSOM, Data Analyst, Power Platform
Follow 140
Description
World's best book ideas in one piece


This book brings you 50 must-read bestsellers as concise infographics with crucial insights and main takeaways. Learn easier and faster to achieve your most ambitious goals.


50 outstanding books. We choose only the titles from reputable bestseller lists for all our infographics.



500+ key insights. We meticulously pick main ideas and insights from books and visualize them.



10 min per book. We've condensed nonfiction titles into easy-to-digest and bite-sized infographics.



E-Book benefits
1. Save a trip to the Library
There's no doubt that the Library is a wonderful place to visit, but you won't have to go very far to borrow e-books. Once your e-book is available, you can download it 24 hours of the day, any day of the year, all from the comfort of your own home.


2. No late fees
Your e-books will automatically return themselves after your loan period, and, the best part is, you'll never have to worry about late fees.


3. Read anytime, anywhere
If you enjoy reading on the go, you can take your whole library with you—on the bus, train, or airplane; or even to stand in line at the grocery store.


4. One device, many books
If you're not sure which book to pack, e-books eliminate the need to choose one book over another to carry with you. E-books are portable and lightweight, making it easy to carry around 100s, even 1000s, of books at once on your mobile device, tablet, e-reader-, or laptop.


5. A dictionary at your fingertips
With many e-books, you can use the built-in dictionary feature to define an unfamiliar word. On most devices, you can do this by pressing and holding the word you'd like to look up.


6. Search in seconds
With many e-books, you have ability to search through an entire book in seconds. Easily search for information in an e-book, instead of turning page after page to find what you're looking for.


7. Customize how you read
When you're reading an e-book, you can adjust the text size to be as small or as large as you'd like. You'll also have options to adjust other settings, such as margins, line spacing, font style, brightness, and much more.
This Best Practice includes
1 PDF File
Acquire business license for $20.00
Add to cart
Add to bookmarks