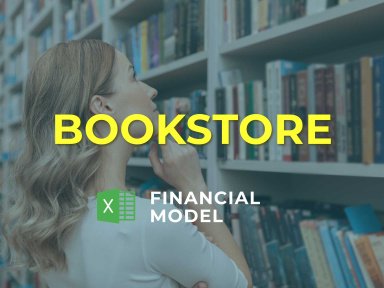 Bookstore Financial Model - FREE TRIAL
Discover Bookstore Pro Forma Projection. Based on years of experience at an affordable price.

by Henry Sheykin
400+ Financial model templates
Follow 469
Description
This TRIAL will provide you with the idea of how the Bookstore - Premium Version is structured and you will familiarize yourself with the END product before purchase.

You may check printable reports and use content to navigate the model tabs.

You may see pop-up notes and understand how the model works.

More details about the Bookstore - Premium Version are here:

https://www.eloquens.com/tool/2zJDcrz7/finance/retail-financial-model-excel-templates/bookstore-financial-model

Model Highlights

Five year bookstore financial model in excel for fundraising and business planning for startups and entrepreneurs. Key financial charts, summaries, metrics, and funding forecasts built-in. Created with the mind of the bookstore business.
Use Bookstore Financial Model Excel Spreadsheet before acquiring bookstore business, and get funded by banks or investors. Unlocked - edit all - last updated in Sep 2020.

Model Overview

Bookstore startup financial model allows you to start planning with minimum fuss and maximum of help. No writing formulas, no formatting, no programming, no charting, and no expensive external consultants. Plan the growth of your business instead of fiddling around with expensive techy things.

BOOKSTORE EXCEL PRO FORMA TEMPLATE KEY FEATURES

Track your spending and staying within budget
Have you written a vague idea of cash inflows and cash outflows on the back of a napkin? All is well and good. Looking at the pro forma income statement will give you a snapshot of the past business performance, but it won't show the future in terms of the Cash Flow Statement By Month. With a cash flow statement projection, you can plan future cash inflows and cash outflows and compare it to the budget, which can be invaluable information.

It is part of the reports set you need.
It doesn't matter you are worried about cash or not, setting up, and managing a Bookstore Financial Model should be a cornerstone of your reporting set. It's the main report of your business that must have in place to grow sustainably. Before you rush into rent more office space or making a new hire, you should always run a Startup Cash Flow Statement scenario. You can model how that action would impact your cash balance in the nearest future. Knowing whether or not plans are possible is crucial to minimizing risk.

Simple and Incredibly Practical
Simple-to-use yet very sophisticated Bookstore Three Statement Financial Model Template tool. Whatever size and stage of development your business is, with minimal planning experience and very basic knowledge of Excel you can get complete and reliable results. Additionally, you will receive uncompromised after-sales service and access to valuable tutorial videos and blog posts.

Run different scenarios
A Cash Flow Statement shows you what your cash balance will look like taking into account the numbers you put into the template. It means you can play with the various variables that impact your cash flow forecast, i.e., wages, sales inflow, supplier payments, taxes, and so on. By adjusting the input amounts, you will be able to see what impact they will have on your businesses' cash flow and when this impact is likely to occur. A well-known example of this is the ability to forecast the effect a new member of staff might have on your cash flow over different periods. Increase the wage costs and see what happens to your cash flow. Running different scenarios in your Pro Forma Cash Flow Projection can have several benefits.

Great Value for Money
Use a robust and proven Bookstore Financial Projection Model based on years of experience at an affordable price. This p&l projection has a one-off payment and absolutely no hidden fees or monthly payments.

Convenient, All-In-One Dashboard
Includes all required forecasting reports, including assumptions, p&l projection, statement of cash flows, balance sheets, performance reviews and summaries for months and years (incl. numerous graphs and KPIs).

REPORTS and INPUTS

Dashboard
In this 3 Way Financial Model, users will find a Dashboard with core financial metrics relevant to their business. This financial dashboard is a snapshot of all critical financial metrics at a particular point in time. In particular, on this dashboard, you will see your core financials, such as revenue breakdown by years, cash flow forecast, profitability forecasts, and cumulative cash flows.

Financial Statements
Our Bookstore Financial Model Excel has a pre-built integrated financial statement structure that contains all the primary financial statements (Balance sheet, forecasted income statement, and startup cash flow projection) and creates financial forecasts for the next five years automatically.

This integrated financial statement structure has pre-built proformas, financial and managerial reports, and financial ratios. Users can choose the presentation of financial information in GAAP or IFRS format for their convenience.

Top Revenue
This Five Year Financial Projection Template has a tab for a detailed analysis of the company's revenue streams. With this template, users can analyze the revenue streams by each product or service category separately.

Break Even
Break Even Point Excel in economics, business, and cost accounting helps calculate the point of time in which the company's total cost and total revenue are expected to become equal. Companies use a break even point analysis to determine the number of product units they need to sell or revenue needed to cover total (fixed and variable) costs.

This Bookstore Three Way Financial Model will also help determine the sales prices for the company's products. Sales cost per unit less variable cost per unit shows the contribution margin and the contribution margin impacts company's profitability.

Sources and Uses
The Profit Loss Projection Sources and Uses (or so-called S&U) statement shows the stakeholders how the company plans to finance its project or overall business activities and where the capital will go.
The Sources and Uses of cash statement's primary rule is that the funds' sources must balance with the combined uses. This report can have a basic format, or you can extend it and change it in a way that fits best with your company's needs.

In the Sources part of the statement, the business owner should mention the funding sources on a line-by-line basis. Similarly, the Uses section should reflect on a line-by-line basis the company's plan on how to use these funds.
Ideally, the Sources and Uses section of this statement should match, or the Sources section should be bigger.

If the Sources section is bigger than the Uses section, it means that the company has more funds than it needs for the current business activities. In this case, the company may plan an extension of the business or other cash flow distribution ways.
Otherwise, if the Uses section is bigger than the Sources section, it means that the company requires additional equity.

Loan opt-in
Our Bookstore Financial Model Excel Spreadsheet has a loan amortization schedule that will help users track everything related to their loans. You can find this template in the 'Capital' tab.
The loan amortization schedule has proformas with pre-built formulas for internal calculations of the loans, interest, and equity.

CAPEX
Detailed capital expenditure (i.e., CAPEX ) planning and automatic calculation of depreciation is an essential part of any Five Year Financial Projection Template. Our CAPEX calculation template allows users to apply straight-line or double-declining balance depreciation for financial planning purposes.

<----->

Increase your productivity with Excel Templates. Plan future Cash Flow Statements to avoid Cash Flow shortfalls. Manage finance with Budgeting Spreadsheets.

Welcome to FinModelsLab.com


- Henry Sheykin
https://www.eloquens.com/channel/henry-sheykin
This Best Practice includes
1 FREE TRIAL Bookstore Financial Model Excel Template
Henry Sheykin offers you this Best Practice for free!
download for free
Add to bookmarks