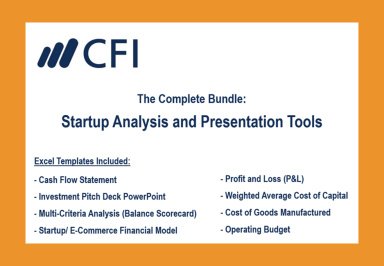 Startup Analysis and Presentation Tools Bundle
This package from CFI includes all of the necessary tools to complete a full startup analysis and presentation.

by CFI
Corporate Finance Institute® (CFI) - Official provider of the Financial Modeling & Valuation Analyst (FMVA)™
Follow 398
Description
This bundle from CFI incorporates a number of templates that can be employed for any startup looking to analysis its financials and forecasting.

Included are the following:

Cash Flow Statement Excel Template
- This template includes 3 statements that produce the inflows and outflows during a period of operation. These are:
1. Operating activities – revenue-generating activities and cash flows from current assets and liabilities
2. Investing activities – cash flows from acquisitions/ disposals of long-term assets
3. Financing activities – cash flows resulting in changes in size of contributed equity and borrowings

Investment Pitch Deck PowerPoint Template
- This pitch deck offers a professional and elegantly designed template for concisely summarising your business.

Multi-Criteria Analysis (Balance Scorecard) Template
- This balance scorecard enables financial analysts to compare strategic alternatives. It provides a template for filling out the important attributes that are used to measure profitability and attractiveness.

Startup/ E-Commerce Financial Model Excel Template
- This template allows the user to professionally model their startup business. It enables the user to analyse the financials of the e-commerce, as well as supporting budgeting and planning.

Profit and Loss Excel Template (P&L Template)
- This template allows the user to create an income statement by entering the figures into the actionable cells. Both monthly and annual statements are included.

Weighted Average Cost of Capital (WACC) Excel Model Template
- The WACC is the minimum rate of return an enterprise should earn in order to create value for its investors. This template thus assists the user in calculating the opportunity cost of the firm.

Cost of Goods Manufactured Excel Model Template
- An effective spreadsheet for monitoring and scheduling a business' cost of goods manufactured – sum of the total costs accumulated when manufacturing products

Operating Budget Excel Template
- The operating budget is prepared in advance of a reporting period as a goal or plan the business expects to achieve. Components include: revenue, variable costs, fixed costs, non-cash expenses, non-operating expenses, capital costs in an operating budget.
This Best Practice includes
7 Excel Spreadsheets, 1 Powerpoint, 1 PDF, 6 Video Tutorials
Acquire business license for $100.00
Add to cart
Add to bookmarks