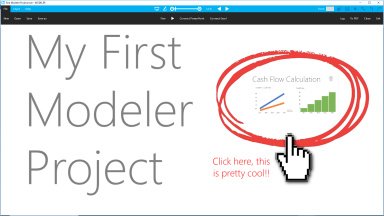 First Basic Modeler Project File demonstrating how to create a simply interactive app with Excel and Powerpoint
This is a simple example of how to connect Excel and Powerpoint using Modeler which then enables interactive visuals.
Lance Rubin offers you this Best Practice for free!
download for free
Add to bookmarks
Further information
To show how easy it is to make a simple Excel file more interactive using existing tools like Powerpoint and Modeler. No coding required and you have a visual interactive app.
To demonstrate to others how to use cutting edge financial modeling technology and visualisation. This will help you look like a rock star to peers, your boss and competition.

Modeler is particularly useful during client pitches and in influencing the audience in a way that is dynamic and visually appealing. No rebooking of the meeting to change the Excel file or image, you simply do it live there and then.