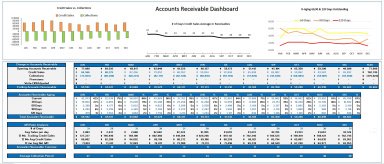 Accounts Receivable Excel Dashboard
Accounting, Accounts Receivable Analysis Dashboard in Microsoft Excel.

by Steve Lindsey
Where Every Template is Guaranteed a 100 Times Payback
Follow 22
Description
Mismanagement of Accounts Receivables will be costly. The slower the collection process, the more risk of Bad Debt, along with the risk of endangering a company's cash flow.

The Accounts Receivable Dashboards turns simple data to valuable key information.

Accounts Receivable Turnover Ratio (effectiveness of extending credit as well as collecting it).

A higher ratio if considered considered favorable as it means faster cash to pay bills and obligations). A lower ratio implies less timely collection of Accounts Receivable.

Average Collection Period (a ratio also known as # of Days in Receivables).

A lower number being preferable, as it represents the average number of days that it takes to money to get back into the company.

Of critical importance it the management of accounts going past, 30,60, 90 and 120 days.

Collection performance is trended in dollars as well as percentages of overall receivables for Current, over 30 Days, 60 Days, 90 Days, and 120 Days accounts. The longer the days out all too often translates to more difficulty, with more time spent, chasing after the amount due. Often, unfortunately, the business being collected upon could go under. Managing the AR Aging diligently may have made collection possible in earlier collection stages.

The Accounts Receivable Dashboard is will drive goals and improve focus on managing the most vital the most function of the accounting department.
This Best Practice includes
1 Excel Template
Acquire business license for $19.95
Add to cart
Add to bookmarks