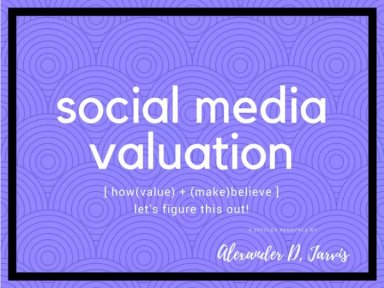 Social Media Startup Valuation
Tool to help you calculate Social Media valuation when looking to calculate overall business valuation.

by Alexander Jarvis
Founder at Perfect Pitch Deck
Follow 262
Description
When considering an exit or trying to value your startup for fundraising purposes, the big question you need to ask yourself is 'what is my business worth?' This tool and the notes that go with it talk about social media valuation.

There is no easy way or straightforward method of valuation. It is an art as opposed to a science. It is easy, however, to tell you how NOT to go about valuing a startup: FEAR OF MISSING OUT.

How do you go about placing a numerical value on a company that is generally pretty stable and not that exciting?
If your company is fairly well established and you have a revenue that is pretty predictable, you're lucky. The valuation will be carried out using a clear methodology. (But it's still tricky and time-consuming.)

When a banker sets about valuing a company, he/she'll do 3 main things:

Discounted cash flow:

This is where the banker will forecast the company's revenue for the next 5-10 years, carry out lots of deductions, and then discount the future cashflow to actual time. Usually the discount rate and assumptions made are not accurate at all, but bankers are able to argue them with well put-together analysis to pretend they're well backed-up.

Comparable Traded Companies
This is generally simpler than the discounted cash flow. Choose a group of public companies that are similar to yours, take their historical figures and aggregate the forecasts for 1-2 year forecasts.
For this you'll usually use EBITDA and revenue. Enterprise value and market cap will be calculated and then divided by their financials to result in multiples. For example 5x revenue and 10x EBITDA.
The multiples are then applied to your company.

Comparable Transactions
The same as above, but picking private market deals. Public is Snapchat whereas Youtube would be private. (Listed vs. Bought)
Likewise, choose which transactions you'd like to support which valuation you want.

Football Field
All of these are mixed together and then average, median, min and max are worked out to obtain trading range. Weightings could be given to different methods if you'd like to distort your story slightly.

Then starts the argument of what the valuation of the company is.
The numbers are okay, but the end goal is to be competitive with the Fear of Missing Out.
This Best Practice includes
1 Downloadable Social Media Valuation Tool, 1 Explanatory PDF
Alexander Jarvis offers you this Best Practice for free!
download for free
Add to bookmarks