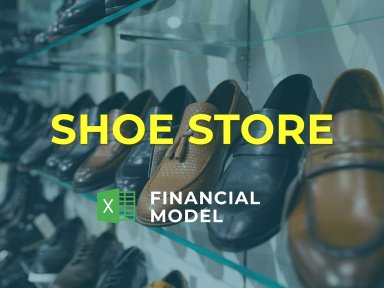 Shoe Store Financial Model Template - FREE TRIAL
Impress bankers and investors with a proven, solid Shoe Store Financial Model Template.

by Henry Sheykin
400+ Financial model templates
Follow 459
Description
This TRIAL will provide you with the idea of how the Shoe Store - Premium Version is structured and you will familiarize yourself with the END product before purchase.

You may check printable reports and use content to navigate the model tabs.

You may see pop-up notes and understand how the model works.

More details about the Shoe Store - Premium Version are here:

https://www.eloquens.com/tool/XvrgSxNe/finance/retail-financial-model-excel-templates/shoe-store-financial-model-template-ready-for-pitch

Model Highlights

A sophisticated 5 year shoe store three statement financial model needed, whatever size and stage of development your business is. Minimal previous financial planning experience and very basic knowledge of Excel is required: however, fully sufficient to get quick and reliable results.
Use Shoe Store Pro Forma Template Excel before acquiring shoe store business, and get funded by banks or investors. Unlocked - edit all - last updated in Sep 2020.

Model Overview

No matter where you are in the business development stage, a sophisticated financial model excel spreadsheet for the shoe store will help you. Excel knowledge or financial planning experience is NOT required!

SHOE STORE FINANCIAL PROJECTION MODEL TEMPLATE KEY FEATURES

Convince investors and lenders
Enhance your pitches and impress potential financiers with a Financial Projection Excel delivering the right information and expected financial and operational metrics. Facilitate your negotiations with investors for successful funding. Raise money more quickly and refocus on your core business.

Save Time and Money
Shoe Store 3 Way Forecast Model allows you to start planning with minimum fuss and maximum of help. No writing formulas, no formatting, no programming, no charting, and no expensive external consultants. Plan the growth of your business instead of fiddling around with expensive techy things.

Simple-to-use
A very sophisticated Shoe Store Pro Forma Budget, whatever size and stage of development your business is. Minimal previous planning experience and very basic knowledge of Excel is required: however, fully sufficient to get quick and reliable results.

Gaining trust from stakeholders
Investors and financing providers tend to think in terms of the big picture. They want the c-level of the companies they invest in to do the same to ensure they maintain a clear idea of the future. Providing stakeholders with a monthly cash flow pro forma will demonstrate a level of awareness that leads to confidence and trust and will make it easier to raise more investment.

Key Metrics Analysis
Creates 5-year Shoe Store 3 Way Forecast Excel Template, proforma, financial statements, and financial ratios in GAAP or IFRS formats on the fly.

Better decision making
Make better operational decisions with the help of creating Cash Flow Statement By Month scenarios in your Excel Template. Perhaps you have to choose between new staff members or investment in equipment, and you are wondering which decision to chose. Variants forecasting will give you the information you need to make these decisions with confidence that you know what impact they will have on your cash balance.

REPORTS and INPUTS

CAPEX
CapEx is important both for the start-ups and actively growing companies that put their efforts in investing in a new property, plant, and equipment (PP&E), as well as new products and new technologies. Such capital expenditures usually make a significant part of the company's expenditures; therefore, financial analysts and investors pay close attention to this financial report.
The company should reflect its capital expenditures in the Balance Sheet, and this type of expenditure does not significantly impact cash flows.

Liquidity KPIs
Current Ratio. The current ratio is a liquidity ratio that helps users measure a company's ability to meet short-term obligations that should be paid within a year. This financial metric tells investors how a company can maximize the current assets on its balance sheet to cover its current debts.

Cap Table
The Cap table in our Shoe Store Cash Flow Format In Excel is integrated into the cash flows. It maps the funding rounds to the financial instruments, such as equity or convertible notes. The Cap table also shows the impact of the company's decisions on share ownership and dilution.

Top Expenses
It is very important for a start-up and existing company to monitor, plan, and manage its costs and expenses to maintain a good profitability level.
For this purpose, it is necessary to analyze the highest costs and always work on their optimization. In our Excel Pro Forma Template we have created a Top expense report helps users with this task. It summarizes the four biggest expense categories and the rest of the expenses as the 'other', so the users can easily monitor these expenses and track the tendencies related to their increase or decrease from year to year.

Loan opt-in
Our Shoe Store Profit Loss Projection has a pre-built feature for automatic loan calculation. This Three Statement Financial Model Template includes the fees, interest, and principal payments.

Top Revenue
When the company's management starts to make a Three Statement Financial Model, revenue is the most crucial component in the Five Year Financial Projection Template. Revenue is one of the main drivers of the enterprise's value in the Three Way Financial Model. That is why financial analysts must pay special attention to the planning and devising the best strategy to approach modeling future revenue streams.

Revenue forecasts should also have assumptions about the growth rate based on historical financial data. Users can find all the components of wise financial planning of the revenue streams in our Shoe Store Budget Spreadsheet.

Operational KPIs
Our Shoe Store Three Statement Financial Model Template has convenient, informative, and easy-to-use operational performance graphs. Here you may visually track your company's key operational performance indicators (KPIs) in the form of charts. These operational performance graphs show the stakeholders the financial information related to the company's liquidity, revenues, expenses, cash flows, and other financial metrics. This financial information in the form of graphs will help a business owner to create presentations for banks and investors with minimum efforts.

<----->

Increase your productivity with Excel Templates. Plan future Cash Flow Statements to avoid Cash Flow shortfalls. Manage finance with Budgeting Spreadsheets.

Welcome to FinModelsLab.com


- Henry Sheykin
https://www.eloquens.com/channel/henry-sheykin
This Best Practice includes
1 FREE TRIAL Shoe Store Financial Model Excel Template
Henry Sheykin offers you this Best Practice for free!
download for free
Add to bookmarks