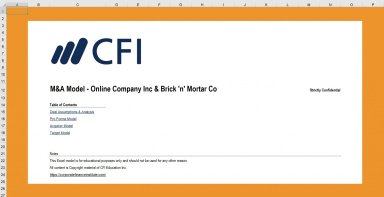 Mergers and Acquisitions (M&A) Financial Excel Model
A complete financial model for mergers and acquisitions (M&A). Includes DCF, accretion/dilution, sensitivity, much more.
Acquire business license for $100.00
Add to cart
Add to bookmarks
Further information
This M&A model gives you a completed version of what an investment banking or corporate development analyst would build for evaluation mergers and acquisitions.
Advanced financial modeling experience