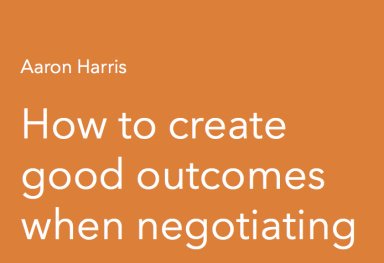 How to create good outcomes when negotiating
How to avoid common mistakes when negotiating.
Introduction
When I watch my nieces and nephew negotiating with my siblings, I'm consistently amazed at how good they are. They have an innate grasp of leverage, relevant terms, and they know what they want. That, or they're completely unreasonable and illogical, which frequently amounts to the same thing - they win more frequently than they lose. Near as I can tell this is true of all children.


Founders don't have the same luxury as kids. The stakes are usually higher, the terms are less familiar, and the other party less willing to forgive tantrums. Based on what I've seen, a lot of founders (especially first time founders) don't really know how to negotiate. There's a whole section of the library devoted to negotiating tactics. From what I've seen, the problems founders run into are a lot more basic.


Some advice to avoid the mistakes I've seen:
Step n°1 |

Know what you want.

Step n°2 |

Understand the terms.

This is basic, but generally ignored. If you're signing a document, you need to read it and understand it. If you're going to use terms in negotiations, make sure you know how to use them. This applies to financing terms ("pre", "pro-rata", "control"), employment terms ("vesting", "cliff", "at will"), and essentially anything else you say to the other party.[1]
add_shopping_cartContinue reading for free (70% left)