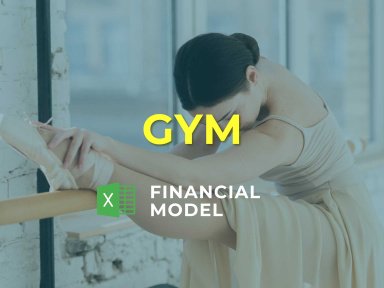 Gym Financial Projection Template - FREE TRIAL
Check Gym Financial Projection Template. Creates a financial summary formatted for your Pitch Deck.

by Henry Sheykin
400+ Financial model templates
Follow 469
Description
This TRIAL will provide you with the idea of how the Gym - Premium Version is structured and you will familiarize yourself with the END product before purchase.

You may check printable reports and use content to navigate the model tabs.

You may see pop-up notes and understand how the model works.

More details about the Gym - Premium Version are here:

https://www.eloquens.com/tool/ZvedIbQ5/finance/industry-specific-financial-models/gym-financial-projection-template

Model Highlights

Creates 5-year gym budget spreadsheet, profit and loss pro forma, financial statements, and financial ratios in GAAP or IFRS formats on the fly.
Use Gym Startup Financial Model before acquiring gym business, and get funded by banks or investors. Unlocked - edit all - last updated in Sep 2020.

Model Overview

Easy-to-use yet robust gym financial projection template excel. With minimal planning experience and very basic knowledge of Excel, you can impress investors with a proven, strategic gym business plan.

GYM PROFIT LOSS PROJECTION KEY FEATURES

Spot problems with customer payments
Preparing the Startup Cash Flow Projection encourages the business to look at how quickly customers are paying their debts. Identify unpaid invoices and take necessary actions to make them pay.

Get Investors to Notice
Most entrepreneurs can't get investors to return their calls. With the Gym 3 Way Forecast, you will secure meetings with potential investors easily.

Get a Robust, Powerful and Flexible Financial Model
This well-tested, robust and powerful Gym Budget Spreadsheet is your solid foundation to plan a business model. Advanced users are free to expand and tailor all sheets as desired, to handle specific requirements or to get into greater detail.

Run different scenarios
A Cash Flow Statement shows you what your cash balance will look like taking into account the numbers you put into the template. It means you can play with the various variables that impact your cash flow forecast, i.e., wages, sales inflow, supplier payments, taxes, and so on. By adjusting the input amounts, you will be able to see what impact they will have on your businesses' cash flow and when this impact is likely to occur. A well-known example of this is the ability to forecast the effect a new member of staff might have on your cash flow over different periods. Increase the wage costs and see what happens to your cash flow. Running different scenarios in your Cash Flow Forecast can have several benefits.

Plan for Future Growth
Cash Flow Statement Forecast can help you plan for future growth and expansion. No matter you're extending your company with new employees and need to take into account increased staff expenses. Or to scale production to keep up with increased sales, future projections help you see accurately where you're running — and how you'll get there. Forecasting is also a well-known goal-setting framework to help you plan out the financial steps your company has to take to reach targets. There's power in Cash Flow Statement Forecast and the insight they can provide your business. Fortunately, this competitive advantage comes with little effort when you use the Startup Cash Flow Projection.

We do the math
Budget Financial Model has all the features above ready with no formula writing, no formatting, no programming, no charting, and no expensive external consultants!

REPORTS and INPUTS

Break Even
The Gym Financial Projection Excel has an integrated template for the break-even analysis. The breakeven analysis calculation helps the company's management understand when the company is expected to become profitable. This Financial Model Excel will automatically generate y break-even timing, break-even units, and break-even revenue of the company.

Dashboard
In this Financial Projection Template Excel, users will find a Dashboard with core financial metrics relevant to their business. This financial dashboard is a snapshot of all critical financial metrics at a particular point in time. In particular, on this dashboard, you will see your core financials, such as revenue breakdown by years, cash flow forecast, profitability forecasts, and cumulative cash flows.

Profitability KPIs
Net profit margin. Net profit margin is a business metric that shows how efficient your company is at generating profit compared to its revenue. In other words, this net profit margin metric tells users how each dollar translates into profits.
The Net profit margin metric is an excellent way to forecast and manage the long-term growth of a business, i.e., how the income exceeds the business's costs.

Top Expenses
The Top expenses tab of the Gym 3 Way Forecast reflects your company's annual expenses, both total and grouped by four categories.
This Financial Projection Excel provides an overview of annual expenses on customer acquisition, COSS placeholders, wages & salaries, fixed and variable expenses, and all other expenses.

Top Revenue
The Top revenue tab in the 3 Way Forecast Model shows off the financial information regarding each of your offerings. In particular, with the help of this Gym Pro Forma Template Excel, you can obtain an annual breakdown of your revenue streams, including the revenue depth and revenue bridge.

Costs
Our Gym Financial Model has a well-developed methodology for creating a cost budget. You can plan and forecast your costs from operations and other expenses for up to 72 months. The cost budget has a detailed hiring plan while also automatically handling the expenses' accounting treatment. You can set salaries, job positions, and the time of hiring.

Moreover, the model allows users to calculate hiring as the company scales automatically. Pre-built expense forecasting curves enable users to set how an expense changes over time. These pre-built options include % of revenues, % of salaries, % of any revenue category, growth (or decline) rates that stay the same or change over time, ongoing expenses, expenses that periodically reoccur, expenses that regularly change, and many more. Costs can be allocated to key expense areas and labeled for accounting treatment as SG&A, COGS, or CAPEX.

Cash Flow KPIs
Cash balance. The cash balance shows the total amount of money in a financial account of the company. Any company needs to hold in reserve enough amount of cash to meet current obligations.

<----->

Increase your productivity with Excel Templates. Plan future Cash Flow Statements to avoid Cash Flow shortfalls. Manage finance with Budgeting Spreadsheets.

Welcome to FinModelsLab.com


- Henry Sheykin
https://www.eloquens.com/channel/henry-sheykin
This Best Practice includes
1 FREE TRIAL Gym Financial Model Excel Template
Henry Sheykin offers you this Best Practice for free!
download for free
Add to bookmarks