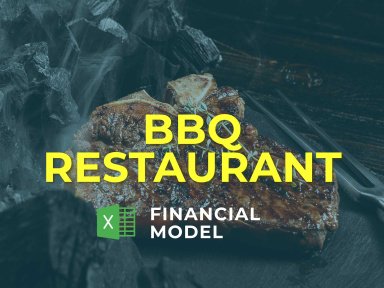 Flexible BBQ Restaurant Financial Model - FREE TRIAL
Impress bankers and investors with a proven, solid BBQ Restaurant Pro Forma Projection.

by Henry Sheykin
400+ Financial model templates
Follow 469
Description
This TRIAL will provide you with the idea of how the BBQ Restaurant - Premium Version is structured and you will familiarize yourself with the END product before purchase.

You may check printable reports and use content to navigate the model tabs.

You may see pop-up notes and understand how the model works.

More details about the BBQ Restaurant - Premium Version are here:

https://www.eloquens.com/tool/NvmMSrN7/finance/restaurant-financial-plans-templates/flexible-bbq-restaurant-financial-model

Model Highlights

Five year bbq restaurant three statement financial model for fundraising and business planning for startups and entrepreneurs. Key financial charts, summaries, metrics, and funding forecasts built-in. Created with the mind of the bbq restaurant business.
BBQ Restaurant Financial Model Excel Spreadsheet used to evaluate startup ideas, plan startup pre-launch expenses, and get funded by banks, angels, grants, and VC funds. Unlocked - edit all - last updated in Sep 2020.

Model Overview

Generate fully-integrated bbq restaurant pro forma income statement for startup, projected cash flow statement format, a startup valuation projections for 5 years (on a monthly basis). Automatic aggregation of annual summaries on the financial summary report.

BBQ RESTAURANT 3 WAY FORECAST MODEL KEY FEATURES

Update anytime
You can easily adjust inputs at the launch stage and throughout the further activities of your business to refine your BBQ Restaurant Excel Pro Forma Template.

Currency for inputs and denomination
In Financial Model define any currency code or symbol and preferred denomination (e.g. 000s) to reflect your preferences.

Manage surplus cash
Most companies don't have excess cash in the bank. It is a well-known situation. But managing surplus cash for reinvestment in new market opportunities, or debt repayments can be essential to keeping stay in the business. Managers are entirely ready to plan for what to do with the cash surplus if they have the forecast of when and where the business will have surplus cash in the bank account. Cash Flow Statement Proforma will provide supplementary guidance on what to do with a cash surplus.

All necessary reports
When creating a BBQ Restaurant Profit Loss Projection, you will not need to independently prepare financial reports and study the requirements for them. Our Excel template contains all the necessary reports and calculations that correspond with the lenders demand.

We do the math
Cash Flow Format In Excel has all the features above ready with no formula writing, no formatting, no programming, no charting, and no expensive external consultants!

Identify potential shortfalls in cash balances in advance.
The BBQ Restaurant Financial Model In Excel works like an 'early warning system.' It is, by far, the most significant reason for a Cash Flow Forecast.

REPORTS and INPUTS

Top Revenue
When the company's management starts to make a Excel Pro Forma, revenue is the most crucial component in the Three Statement Financial Model. Revenue is one of the main drivers of the enterprise's value in the Financial Projection Excel. That is why financial analysts must pay special attention to the planning and devising the best strategy to approach modeling future revenue streams.

Revenue forecasts should also have assumptions about the growth rate based on historical financial data. Users can find all the components of wise financial planning of the revenue streams in our BBQ Restaurant Financial Model.

Cash Flow KPIs
Cash conversion cycle (CCC). The cash conversion cycle (CCC) is a financial metric that expresses the time it takes for a company to convert its resources in the form of inventory and other resources into cash flows. The cash conversion cycle is also called the Net Operating Cycle.

CCC measures how long each dollar that the company inputted is tied up in the production and sales process before it gets converted into cash.
The cash conversion cycl metric accounts for various factors, such as how much time it takes to sell inventory, how much time it takes to collect accounts receivable, and how much time it takes to pay obligations.

Costs
A BBQ Restaurant Financial Projection Template Excel is an important financial tool that enables users to identify actual and forecasted expenditures, as well as financial resources needed to cover these costs. With a well-developed cost budget, you can see the areas where you can save money and the areas of high priority. As a part of a business plan, the cost budget supports the process of pitching to investors and loan applications.

Top Expenses
The Top expenses tab of the BBQ Restaurant Financial Projection Model Template reflects your company's annual expenses, both total and grouped by four categories.
This Pro Forma Projection provides an overview of annual expenses on customer acquisition, COSS placeholders, wages & salaries, fixed and variable expenses, and all other expenses.

Sources and Uses
Sources and Uses of Funds Statement is a critical financial spreadsheet in our BBQ Restaurant Financial Projection. Business owners will need this statement for bank loan applications and the meeting with potential investors. Many banks include this statement in the application process for a business loan. The Sources and Uses statement is equally important both for large companies and for start-ups.

Large companies include Sources and Uses statement into their annual report for investors. The start-ups need to manage each source of funding and control each separate expense.
Lenders appreciate Sources and Uses of Funds Statement because it excellently summarizes its financial plans and financial management strategies. This statement puts together the company's vision regarding the financing of the start-up or future expansion.

Valuation
Our BBQ Restaurant 3 Way Financial Model has two integrated valuation methods. It has a discounted cash flow (DCF) and the weighted average cost of capital (WACC) calculations to show a company's forecasted financial performance.

Liquidity KPIs
Working Capital. The working capital financial metric reflects the money you need for short-term operations. Working capital shows the difference between current assets and current liabilities.

<----->

Increase your productivity with Excel Templates. Plan future Cash Flow Statements to avoid Cash Flow shortfalls. Manage finance with Budgeting Spreadsheets.

Welcome to FinModelsLab.com


- Henry Sheykin
https://www.eloquens.com/channel/henry-sheykin
This Best Practice includes
1 FREE TRIAL BBQ Restaurant Financial Model Excel Template
Henry Sheykin offers you this Best Practice for free!
download for free
Add to bookmarks