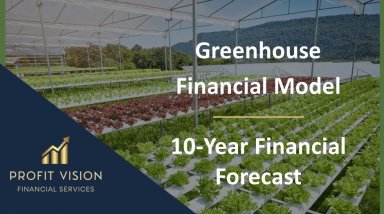 Greenhouse Financial Model – Dynamic 10 Year Forecast
Financial model presenting a business scenario of a startup or operating Greenhouse.

by Profit Vision
Financial & Consulting Services
Follow 21
Description
If you want to start a Greenhouse from scratch or you need a sample Greenhouse business plan template, this Financial model is the right tool for you.
It includes Land ownership assumptions (purchase or lease), Greenhouse development costs, Raised Beds and Hydroponics Planting area metrics, production and revenue assumptions (expected yield, sold production, prices, etc.) for 10 different products, Direct costs, OpEx, Capex, financing through Debt & Equity and Valuation & Exit Assumptions.
Outputs of the template include Annual forecasted Financial Statements (3 Statement Model), Annual Direct Cash Flow, Project Valuation and Sensitivity Analysis, Payback & Breakeven Calculation, Project Return Metrics (IRR, MOIC, NPV) and Investors Returns Waterfall.
A variety of KPIs and Financial Ratios analyzes business performance and the project's results are presented through sophisticated charts & graphs and are summarized on a professional Executive Dashboard.
The model is dynamic and allows users to select the desired forecasted Years (1 to 10). Output Reports & Charts are dynamically updated based on the selected forecast period
The structure of the template follows Financial Modeling Best Practices principles and is fully customizable.

Inputs:
• Land Ownership (choice between Purchase or Lease)
• Greenhouse Metrics (Hydroponics planting area, stacks, etc - Raised Beds sizes, planting area, Spacing Metrics, etc.)
• Revenue Assumptions for 10 different products (Expected Yield, Sale Price etc) and Direct Costs (seeds, fertilizers, chemicals, fuels, storage, etc.)
• OpEx & CapEx, and Depreciation Assumptions
• Financing & Capital Structure – Uses & Sources of Cash analysis (Financing through Equity & Debt)
• Exit Year Scenario & Valuation Multiples

Outputs:
• Dynamic 10 Year Forecast (3 Statement Model)
• Annual Direct Cash Flow
• Business Performance Dashboard
• Summary of various KPIs and Financial Ratios (Revenue & Cost Metrics, ROE, ROIC, Profit Margins, etc.)
• Project Valuation (incl. Enterprise & Equity Value, DCF, Terminal Value, Unlevered & Levered Cash Flow, Project Return Metrics & Sensitivity Analysis)
• Investor Returns (4-tier IRR hurdle waterfall model to distribute proceeds between investors)
• Professional Executive Summary (can be used for investment decisions)


Instructions on the use of the model are included in the Excel file.


Help & Support

Committed to high quality and customer satisfaction, all our templates follow best practice financial modeling principles and are thoughtfully and carefully designed, keeping the user's needs and comfort in mind.
No matter if you have no experience or you are well versed in finance, accounting, and the use of Microsoft Excel, our professional financial models are the right tools to boost your business operations!
If you however experience any difficulty while using this template and you are not able to find the appropriate guidance in the provided instructions, please feel free to contact us for assistance.
If you need a template customized for your business requirements, please e-mail us and provide a brief explanation of your specific needs.
This Best Practice includes
Excel Financial Model
Acquire business license for $129.00
Add to cart
Add to bookmarks
Further information
Presents a business scenario of a startup or operating Greenhouse.