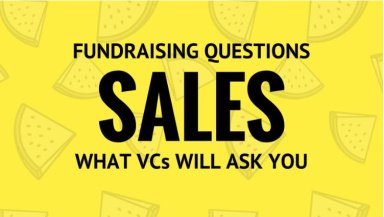 Fundraising Sales Questions: What Venture Capital Startup Interview Questions Will Be Asked
This guide will provide the questions that will be asked by VCs during an interview for fundraising sales.

by Alexander Jarvis
Founder at Perfect Pitch Deck
Follow 265
Description
When you are pitching to raise money, you will be asked a series of questions by investors. This guide tells you what those questions will be, specifically revolving around the topic of sales.

This resource is particularly handy because unlike many other online resources, this guide:

-Gives useful insight into the true meaning of the questions
-Gives all of the questions that you will potentially be asked as opposed to just a few
-Provides examplar responses

This guide is based on fundraising sales questions. If you are a company that is driven by sales, VCs need to trust that you have a strong sales engine so that you can grow quickly. As a business that relies on people, your attention to detail and knowledge of the industry is essential. The bottom line is that you need to know your business inside-out to be able to answer these questions. If you read all of the questions provided and do your research, you should be able to handle whatever question is asked.

Example of what you will find in this guide:

Question: How do you sell this to customers?

What they mean
It's important that founders know how to communicate. They especially need to know how to sell something. By asking this question, investors are looking to find out not only how the founders would pitch the product to customers, but also if the founders are able to do it themselves. In reality, you won't be able to pitch your startup well at the start, but you'll get better as time goes on.

The founders are going to be the people doing the first batch of deals, and will maybe continue doing so. You can't just recruit an expert sales person and expect everything to work out, you're going to have to be able to teach your salesperson how to sell the product in question after you have hired them. When put on the spot, if you're not able to sell your own company/product, you will signal a massive red flag for an investor.

What you need to say
To get through this question, you have to be able to pitch your company to the VC on the spot, whilst communicating each key point of your business just how you would with a customer. You have to remember that your goal is to close the investor in this 'pitch meeting.' You must do just enough and spend enough time so that you both answer the question and impress the investor, whilst also leaving yourself with enough time to whizz through the other important points such as your product, team, and the ask. It's important to always enforce the market size.

Example of real question in the potential words of an investor also provided.


This Best Practice includes
1 PDF Guide
Alexander Jarvis offers you this Best Practice for free!
read for free
Add to bookmarks