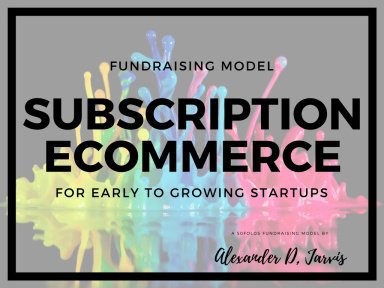 Subscription E-Commerce Fundraising Financial Model
Combining an e-commerce product sales model & a subscription model to make one subscription e-commerce fundraising model

by Alexander Jarvis
Founder at Perfect Pitch Deck
Follow 268
Description
This is the only model you'll find of its kind on the internet if you're building a subscription commerce startup. It combines both a tradition e-commerce product sales model and a subscription model to make this subscription e-commerce fundraising model. With this model you'll be able to forecast highly granular revenue with cohort level modeling monthly. There is 3 years worth of detailed Profit and Loss combined, forecast, actual, and a cash based analysis. The model allows you to plan your staff recruitment and depending on how you scale, automate support staff. COGS, Charts, and KPIs are all mapped out. To illustrate the plan for your pitch deck there is a unique source and use sheet, and so much more.

I've been asked numerous times by founders for a model that is able to meet their needs. Something that was neither a SaaS model nor a pure e-commerce model. In this model, elements of both have been combined to create a model that is highly versatile and able to meet your needs. This model is one of the bigger models on offer. You can benefit from impressive results without the months spent modeling.

This financial model is the most powerful and comprehensive model out there for founders. If your goal is to impress investors with a thorough plan that has been well thought out, look no further.

As a CEO, CFO, or sole founder, it's extremely difficult to model all this for your fundraising. There are free models available, but one that is useful, complete, and works as well as this does not come for free.

I know, because I've been there, and ended up having to do it all myself.

Well, this has had to be done independently numerous times over the years. I've worked with loads of startups and I've had to build a lot of models. They've gotten better each time, but the process has been no less difficult!

If you're raising money for a startup, or having to develop an operations plan to work out how you're going to grow and not spend all your cash, you'll need an excel model. The difficulty is that they're really tough to build. Most people don't have two months to spend building one; this time must be spent executing. If you want to pay someone to build one for you, you're looking at least $10,000. But there is a better way!

I'm a VC and ex-M&A banker, and I've spent months and months modeling to work up the experience to be able to build this model that I'm now making available to you. Your M&A buddy could probably build you something for a few thousand dollars, but those types of models don't usually make a lot of sense for startups.

If you're keen to fully understand your operations, your best bet is to download this model.

If you're going really quickly and lack the time to fill out the model, 50 Folds can build it for you. Feel free to contact Alexander.

This model comes with 20 minutes of complimentary consulting so you can really get the most out of it.
This Best Practice includes
1 Subscription E-Commerce Fundraising Financial Model
Acquire business license for $369.00
Add to cart
Add to bookmarks