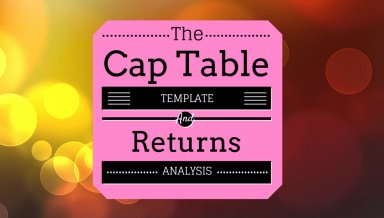 Ultimate Startup Cap Table and Return Analysis Excel Template
Sample cap table excel template with exclusive waterfall return analysis.
Acquire business license for $9.00
Add to cart
Add to bookmarks
Further information
This cap table will enable you to:

Understand the ownership structure of your organization and how it evolves with multiple financing rounds, as well as allowing you to play with all the assumptions to support how you structure your next financing round.

The following spreadsheet has most of what you would come across with investors. It covers the following:

• Initial founder table
• Angel investment (Both as convertible debt which converts at Seed stage and straight priced round)
• Seed investment (Assuming 1x strategy preferred liquidation preference)
• Series A, B and C (Again structured as the Seed investment)

Additionally to the cap table, there is a waterfall return analysis where you can calculate exactly how much people can earn, and at the different exit valuation scenarios. I haven't seen anyone do this before, so I find that quite cool.

Though my template doesn't do some things.

As you may know, sometimes things get complicated so my table cannot address every possible scenario. Assuming that you are dealing with reputable investors, you won't really have to change this (For example, account for multiple liquidation preferences and participating in preferred shares)

I do not assume that you aim to:

• Get funded with warrants
• Assume there is a vesting schedule on shares

(Though there is a switch to remove unissued shares from the ESOP pool)

• Have debt and interest that converts to shares
• Have multiple liquidation preferences
• Participating preferred shares
• Different terms for investors at each stage of funding

I am aware that some things could be added to the model, such as calculating effective calculations (Adjusted for ESOP issuance etc.) which are only FYI. Maybe that will be incorporated in the future.