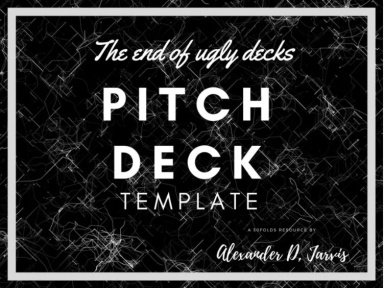 Pitch Deck Template: The End of Ugly Decks for Startup Founders
This is a pitch deck made specifically for fundraising that you both need and want.

by Alexander Jarvis
Founder at Perfect Pitch Deck
Follow 268
Description
If you feel like your deck is always quite ugly, this is the deck for you. This deck provides 105 slides in both PowerPoint and KeyNote, and is a fool-proof way to wow investors with how aesthetically pleasing your deck is. This way you can turn your focus on presenting your great startup and the traction to fill the pages.

When I worked as a Venture Capitalist, I used to hate sending replies that said, "Come back to me when you have more traction." I don't doubt you've heard that one before. It's usually the line investors use to play it safe- avoiding for now but retaining the investment option for the future. That felt really fake and like I wasn't providing any help to often desperate people.

I like to help people but in a scalable way, so I decided to write templates that are simply replies to my most commonly asked questions. This blog is used as a platform to provide these template answers. The links are then copied into my 'pass' emails so that founders can improve instead of just receiving a shitty 'no' response (without actually saying no.)

The best blog of mine yet was a post putting out there what decks look like, and it gets viewed roughly four million times annually. That's great obviously, but it hasn't stopped me receiving bad pitch decks, so I've had to come up with a new idea. It's not enough to just show people what a funded pitch deck should look like.

The next idea was to simply make a template that only needs to be filled out. How can you mess that up?
People surely will, but at least it will still look better.

You have to remember that even with a good template, content and narrative are still hugely important. Without this, there's no point in having a great deck. Getting this right is hard too, and I've never met anyone to have it nailed. If you need help with this, email me so that myself and my team can help you out.

This template however, will help you get your thoughts in order and with almost no effort, create something that is better than most pitch decks out there.

This also comes with a handy explanatory PDF.
This Best Practice includes
1 Pitch Deck Template, 1 Explanatory PDF file
Acquire business license for $39.00
Add to cart
Add to bookmarks