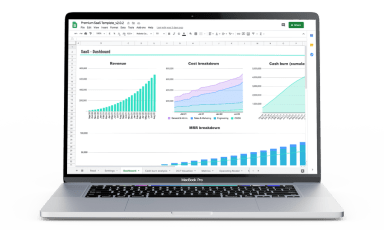 SaaS Financial Model (Premium Version) + 1 Hour Video
Financial Model Template for any SaaS / Subscription Model Business. Including 1 Hour Walkthrough Video.
Acquire business license for $99.00
Add to cart
Add to bookmarks
Further information
This model template is for entrepreneurs, startup founders or established businesses looking for a comprehensive and dynamic financial model with all variables, assumptions and metrics specific to subscription model businesses.
It is a perfect tool for businesses looking for a rock-solid financial forecasts to use in their fundraising or budgeting efforts. IFRS compliant, it also includes all investor-friendly and industry-standard features such as 3 consolidated financial statements (P&L, balance sheet and cash flow statement), up to 5-year forecasts and charts and reports which can be re-used in investor or company presentations.
Looking for a simplified financial model instead? Our Basic version of the SaaS financial model template is made for you (available on Eloquens)