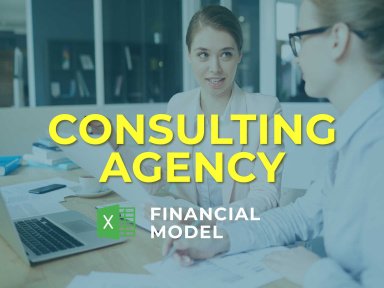 Consulting Agency Financial Model - FREE TRIAL
Shop Consulting Agency Pro Forma Projection. Includes inputs, outputs and charts to present it in an investor-friendly,

by Henry Sheykin
400+ Financial model templates
Follow 468
Description
This TRIAL will provide you with the idea of how the Consulting Agency - Premium Version is structured and you will familiarize yourself with the END product before purchase.

You may check printable reports and use content to navigate the model tabs.

You may see pop-up notes and understand how the model works.

More details about the Consulting Agency - Premium Version are here:

https://www.eloquens.com/tool/mQ3GSGRa/finance/industry-specific-financial-models/practical-consulting-agency-financial-model

Model Highlights

A sophisticated 5 year consulting agency financial projection excel needed, whatever size and stage of development your business is. Minimal previous financial planning experience and very basic knowledge of Excel is required: however, fully sufficient to get quick and reliable results.
Consulting Agency 3 Way Forecast Model helps to estimate required startup costs. Unlocked - edit all - last updated in Sep 2020.

Model Overview

Generates financial model excel for the consulting agency, cash flow statement for 5 years, sources and uses, and financial metrics in GAAP/IFRS formats automatically.

CONSULTING AGENCY FINANCIAL MODEL EXCEL TEMPLATE KEY FEATURES

We do the math
Financial Projection Excel has all the required features ready with no formula writing, no formatting, no programming, no charting, and no expensive external consultants! Concentrate on the task of planning rather than programming.

All necessary reports
When creating a Consulting Agency Cash Flow Format In Excel, you will not need to independently prepare financial reports and study the requirements for them. Our Excel template contains all the necessary reports and calculations that correspond with the lenders demand.

Build your plan and pitch for funding
Impress bankers and investors with a proven, solid consulting agency financial model that impresses every time.

It is part of the reports set you need.
It doesn't matter you are worried about cash or not, setting up, and managing a Consulting Agency Cashflow Projection should be a cornerstone of your reporting set. It's the main report of your business that must have in place to grow sustainably. Before you rush into rent more office space or making a new hire, you should always run a Cash Flow Statement Forecast scenario. You can model how that action would impact your cash balance in the nearest future. Knowing whether or not plans are possible is crucial to minimizing risk.

Simple and Incredibly Practical
Simple-to-use yet very sophisticated Consulting Agency Three Statement Financial Model Template tool. Whatever size and stage of development your business is, with minimal planning experience and very basic knowledge of Excel you can get complete and reliable results. Additionally, you will receive uncompromised after-sales service and access to valuable tutorial videos and blog posts.

Confidence in the future
Using our financial model, you can effectively plan, prevent risks, manage stocks and Cash Flow Statement By Month and foresee your prospects for the next 5 years.

REPORTS and INPUTS

Burn and Runway
The cash burn rate shows the difference between the cash inflows and cash outflows of the company. It is essential to monitor this metric because it shows how long the company will last with its current funding level. Business owners can also see a clear picture of how various business strategies change the cash burn rate.

All in One Place
This Consulting Agency Financial Model Excel Spreadsheet is key for investors. You will need a Pro Forma Template Excel to validate how much money you need to start-up with and how much your investor can make on this investment. Remember that investors are not tolerant to start-ups that do not have a business plan or a Cashflow Projection.

Sources and Uses
The sources and uses statement in this Consulting Agency Financial Projection Model Excel describes all of the company's funding sources and the ways it spends these funds.

Benchmarks
This Three Way Financial Model has a tab for financial benchmarking study. This study involves a financial analysis performance and comparing the company's results with other companies' financial indicators in the industry. Conduction of the financial benchmarking study helps users assess a company's overall competitiveness, efficiency, and productivity.

CAPEX
This Consulting Agency Financial Model consist a CapEx calculation with pre-built formulas helps users calculate the volume of capital expenditures using numbers in the proforma income statement and balance sheet.

Top Expenses
It is very important for a start-up and existing company to monitor, plan, and manage its costs and expenses to maintain a good profitability level.
For this purpose, it is necessary to analyze the highest costs and always work on their optimization. In our Financial Model In Excel Template we have created a Top expense report helps users with this task. It summarizes the four biggest expense categories and the rest of the expenses as the 'other', so the users can easily monitor these expenses and track the tendencies related to their increase or decrease from year to year.

Profitability KPIs
EBITDA. Earnings before interest, tax, depreciation, and amortization (EBITDA) is the primary measure of a company's operating performance.

<----->

Increase your productivity with Excel Templates. Plan future Cash Flow Statements to avoid Cash Flow shortfalls. Manage finance with Budgeting Spreadsheets.

Welcome to FinModelsLab.com


- Henry Sheykin
https://www.eloquens.com/channel/henry-sheykin
This Best Practice includes
1 FREE TRIAL Consulting Agency Financial Model Excel Template
Henry Sheykin offers you this Best Practice for free!
download for free
Add to bookmarks