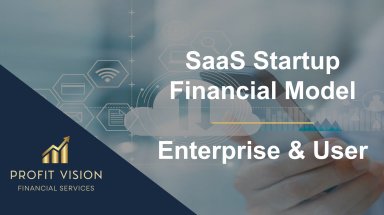 SaaS Startup Financial Model - Enterprise & User
Financial Model providing a dynamic up to 10-year financial forecast for a Software as a Service (SaaS) startup business

by Profit Vision
Financial & Consulting Services
Follow 20
Description
Advanced Financial Model providing a dynamic up to 10-year financial forecast for a Software as a Service (SaaS) startup business.
The model is a flexible tool for CEOs/CFOs to control and improve daily operations and forecast company's growth. It includes all necessary data to calculate financial and operating activities (MRR, COGS, Payroll, Expenses) and project customer new subscriptions and return rates.
Outputs of the template include various financial reports, key SaaS metrics (CAC, ARPU, LTV, IRR, NPV, Payback), a sophisticated Dashboard analyzing business performance and an Investors Executive Summary.
The structure of the model follows Financial Modeling Best Practices and is fully customizable.

Model Structure

Customer Acquisition
Revenue is calculated based on the number of subscribers.
Customer new sign-ups come from 2 different sources of traffic - Paid and Organic

Revenue Assumptions
•Monthly Recurring Revenue (MRR) for Software sold as a Monthly Subscription or as an Annual Enterprise License.
• 3 Pricing Tiers (Monthly Subscriptions packages)
• Enterprise License sold with an annual (12-month) contract - User can change term to 2-Year, 3-Year contract, etc.
• 5 different subscription periods with the corresponding prepayment discounts (applied to Monthly Subscriptions)
• Upgrades or Downgrades between Subscription and Enterprise License Packages
• Non-recurring Revenue calculation (Set up fees per New Customer)

Revenue Calculation
Model calculates revenue per Service package and subscription period.
Analysis for each package includes:
•Total customers (new, expanded, upgraded, downgraded, churned)
• Customers per subscription period
• Renewal waterfall per subscription period
• Monthly Recurring Revenue (MRR) and Monthly Cash Basis Revenue per subscription period
• Monthly Deferred Revenue calculation

Cost Assumptions
• Cost of Services per Customer (Recurring & Non-Recurring)
• Payroll per Department supported by Cohort analysis for Starting Date and Year for each employee
• Operating Expenses

Financing & Capex
• Uses & Sources of Cash analysis - Financing through Equity & Debt
• Fixed & Intangible Assets Analysis with the corresponding Depreciation & Amortization Schedules.

Model Outputs

Monthly Operating Budget - Actual & Variance Analysis
• Income Statement, Operating Cash Flow and Payback Period Analysis
• Variance Analysis presents a comparison for Actual vs Budget figures at a Year-to Date and a Monthly level.

Annual Financial Statements
• Dynamic 3 Statement Financial Model including Discount Cash Flow, Business Valuation, Unlevered and Levered FCF

Annual Direct Cash Flow
• Analysis of company's cash movements using the direct method which offers more detail and a clearer picture of operating cash flow accounts of the business.

Investor Returns
• A standard 4-tier IRR hurdle waterfall model to distribute proceeds between investors. User can adjust the equity contribution split as well as the tier 1 proceeds split, promote and hurdle rate in each tier.

Key Metrics
• A summary of various KPIs and Financial Ratios (CAC, ARPU, LTV, Retention Rates, Payroll metrics, ROE, ROIC, etc)

Performance Dashboard
• A highly-sophisticated Dashboard with key metrics & charts analyzing business performance on an Annual basis.

Executive Summary
• A professional presentation of company's performance (can be used for investment decisions)

Detailed instructions on the use of the model are included in the Excel files.

Help & Support

Committed to high quality and customer satisfaction, all our templates follow best practice financial modeling principles and are thoughtfully and carefully designed, keeping the user's needs and comfort in mind.
No matter if you have no experience or you are well versed in finance, accounting and the use of Microsoft Excel, our professional financial models are the right tools to boost your business operations!
If you however experience any difficulty while using this template, please feel free to contact us for assistance.
If you need a template customized for your business requirements, please e-mail us and provide a brief explanation of your specific needs.
This Best Practice includes
1 Excel Financial Model
Acquire business license for $129.00
Add to cart
Add to bookmarks
Further information
Financial Model providing a dynamic up to 10-year financial forecast for a Software as a Service (SaaS) startup business