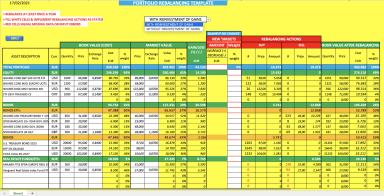 ASSET PORTFOLIO REBALANCING TOOL (2022 RELEASE)
Asset Porfolio Rebalancing made easy via a downloadable Microsoft Excel File.
Domenico Cristarella offers you this Best Practice for free!
download for free
Add to bookmarks
Further information
THIS TEMPLATE MAKES IT EASY TO PERFORM PORTFOLIO REBALANCING CALCULATIONS, IN ORDER TO DETERMINE QUANTITIES TO BE PURCHASED OR SOLD TO MEET SPECIFIED TARGETS.