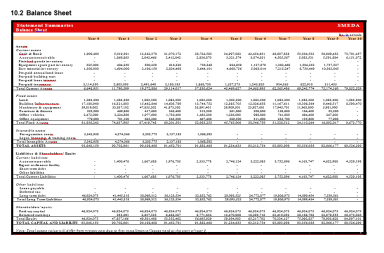 Sample / Template : Business Plan (Pre feasibility Study)
Pre feasibility Study : Apple Treatment Plant Rs. 93.84 million Aug-2017

by Usman Mushtaq ACCA
Account and Finance Trainee at Oil & Gas Development Company Ltd. Pakistan
Follow
Description
The objective of the pre-feasibility study is primarily to facilitate potential entrepreneurs in project identification for investment. The project pre-feasibility may form the basis of an important investment decision and in order to serve this objective, the document/study covers various aspects of project concept development, start-up, and production, marketing, finance, and business management.

The purpose of this document is to facilitate potential investors in Apple Treatment Plant by providing them with a general understanding of the business with the intention of supporting potential investors in crucial investment decisions.

The need to come up with pre-feasibility reports for undocumented or minimally documented sectors attains greater imminence as the research that precedes such reports reveal certain thumb rules; best practices developed by existing enterprises by trial and error, and certain industrial norms that become a guiding source regarding various aspects of business set-up and it's successful management.

Apart from carefully studying the whole document one must consider critical aspects provided later on, which form the basis of any Investment Decision. Apple is an important crop in Balochistan in terms of the people employed, the value of the output, and the revenue it generates. The only reason of failure to export and no demand in the international Apple Market is mainly that Pakistan cannot supply the well processed, preserved, sorted, graded, waxed and properly packed apples as per the demand of the world market. The freshness of our apples from the orchard is not retained due to the lapse period of transportation and proper treatment, which is the main requisite of the international market.


In order to earn substantial foreign exchange its quite important to establish Apple treatment plant. It is worth mentioning that Pakistan is a developing country so in order to earn foreign exchange with the help of neglected value added fruit potential Apple Treatment Plant is the right project to execute.
This Best Practice includes
1. Word Document File
Usman Mushtaq ACCA offers you this Best Practice for free!
download for free
Add to bookmarks