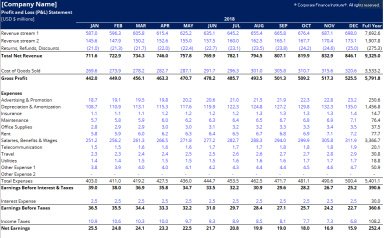 Profit and Loss Excel Template (P&L Template)
This Excel file contains both annual and monthly P&L statements that you can use to create your own income statement.

by CFI
Corporate Finance Institute® (CFI) - Official provider of the Financial Modeling & Valuation Analyst (FMVA)™
Follow 390
Description
By downloading this free Profit and Loss template, you will be able to easily create your own income statement. Once you have downloaded this tool, simply enter your own information in all of the blue font color cells. This will automatically produce a monthly or annual statement as the output. The Excel file contains four tabs which each include a different template.

A profit and loss statement (P&L), also known as an income statement, summarizes the income and expenses of a company over a specific period of time to arrive at its net earnings for the period.

Follow these steps to effectively use your templates:
---> Download the Excel file.
---> Use the monthly or annual worksheet, depending on what type of statement you want to produce.
---> Replace all blue cells that contain hardcoded numbers with your company's information.
---> Double check to ensure all the formulas in black cells working properly.
---> Save as a new file and save a version as PDF as well as XLS.

There are two types of template included in the Excel file:

1. Monthly P&L template - perfect for businesses which require regular reporting and detail. All information is shown in a series of monthly columns which makes the details clearer than it would annually. Perfect for small, medium and large businesses as it can be adjusted.

2. Annual P&L template - ideal for businesses who have been operating for several years. Follows the same format and structure and the monthly P&L but does not include a total column at the end that sums up each of the periods. Can be used by any size business and can be easily altered.

Components of the template:
- Revenue streams (also called sales streams)
- Returns, Refunds, Discounts
- Total Net Revenue
- Cost of Goods Sold
- Gross Profit
- Advertising & Promotion
- Depreciation & Amortization
- Rent and Office
- Salaries, Benefits & Wages
- Telecommunication
- Travel
- Utilities
- Selling, General & Administrative (SG&A)
- Earnings Before Interest & Taxes (EBIT)
- Interest Expense
- Earnings Before Taxes (EBT)
- Income Taxes
- Net Earnings

All templates in this Excel file can be altered to suit your business' needs. If you need to add any more line items, simply insert a new row - just make sure the formulas adding up the totals capture those new rows.
This Best Practice includes
1 Profit and Loss Template, 1 YouTube Video
CFI offers you this Best Practice for free!
download for free
Add to bookmarks