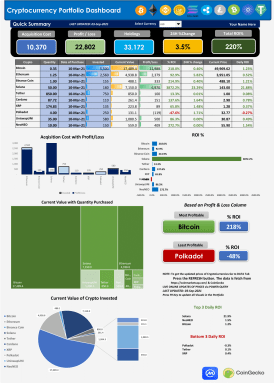 Cryptocurrency Portfolio Dashboard in Microsoft Excel - Top 250 Crypto Coins - Data Live from COINGECKO Website
Cryptocurrency Portfolio Dashboard in Microsoft Excel - Top 250 Crypto Coins - Data Live from COINGECKO Website (New Version) JAN 2022

by Rahim Zulfiqar Ali
Founder & CTO - XLR8 Tech Solutions, CEO - Excel Basement, Excel & POWER BI Trainer & Consultant, MBA (MIS), MCT, MSOM, Data Analyst, Power Platform
Follow 129
Description
Cryptocurrency Portfolio Dashboard in Microsoft Excel - Top 250 Coins - Data Live from COINGECKO Website (New Version) JAN 2022

Updates in NEW & Improved Version - Jan 2022
1. Top 250 Crypto Coins directly from CoinGecko website via POWER QUERY
2. Improved Visualizations
3. Quick Update within 30 seconds
4. Compatible for Microsoft Windows Users with Microsoft Excel Desktop Version having Power Query.
___________________________________________
Features in Version 2.3 (3 SEP 2021):
1. Currency Translation Feature Added in Dashboard (Drop Down List)
2. New Visualizations Added
3. Top 3 & Bottom 3 Daily ROI
4. Crypto Currencies prices successfully updates from CoinMarketCap & CoinGecko Website. User needs to make sure that Excel also have POWER QUERY available to fetch live prices. (Only TOP 100 Coins will fetch in this version)

Features in Version 2.0 (May 2021):
1. Importing Real-Time Data from https://coinmarketcap.com/ into the Excel Power Query & Transformed.
2. One-Click REFRESH and Cryptocurrency prices updates in Dashboard & Datasheet.
3. More lines added in the Dashboard for Cryptocurrency Portfolio
4. Much improved visualization (TREEMAP), Dynamic Bar & Column Chart.
5. Historical Daily Data Sheet added so that user can maintain their past record for further analytics.
6. User can add BUY/SELL columns in Historical sheet and apply SUMIFS for further analysis.
7. KPI's Total ROI %, 24H% Change, Daily ROI, Current Crypto Value & More...

Features in Version 2.2 (July 2021):
1. Bug from the website of COINMARKETCAP for prices is resolved.
2. COINGECKO website prices worksheet is also added
3. Improved Dashboard Layout

#cryptocurrency​ #cryptocurrencypakistan​ #bitcoin​ #ethereum​ #elonmusk​ #Dogecoin​ #doge​ #DogeToTheMoon​ #SpaceX

A cryptocurrency is a digital or virtual currency that is secured by cryptography, which makes it nearly impossible to counterfeit or double-spend. Many cryptocurrencies are decentralized networks based on blockchain technology—a distributed ledger enforced by a disparate network of computers. A defining feature of cryptocurrencies is that they are generally not issued by any central authority, rendering them theoretically immune to government interference or manipulation.

Understanding Cryptocurrencies
Cryptocurrencies are systems that allow for secure payments online which are denominated in terms of virtual "tokens," which are represented by ledger entries internal to the system. "Crypto" refers to the various encryption algorithms and cryptographic techniques that safeguard these entries, such as elliptical curve encryption, public-private key pairs, and hashing functions.

A cryptocurrency, cryptocurrency or crypto is a digital asset designed to work as a medium of exchange wherein individual coin ownership records are stored in a ledger existing in a form of the computerized database using strong cryptography to secure transaction records, to control the creation of additional coins, and to verify the transfer of coin ownership.
This Best Practice includes
1 Excel file
Acquire business license for $25.00
Add to cart
Add to bookmarks