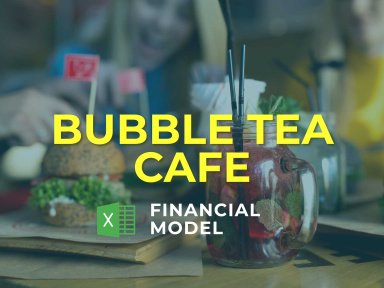 Bubble Tea Cafe Financial Model For Pitch - FREE TRIAL
Discover Bubble Tea Cafe Financial Model Template. Creates a financial summary formatted for your Pitch Deck.

by Henry Sheykin
400+ Financial model templates
Follow 469
Description
This TRIAL will provide you with the idea of how the Bubble Tea Cafe - Premium Version is structured and you will familiarize yourself with the END product before purchase.

You may check printable reports and use content to navigate the model tabs.

You may see pop-up notes and understand how the model works.

More details about the Bubble Tea Cafe - Premium Version are here:

https://www.eloquens.com/tool/kMRYhJj8/finance/restaurant-financial-plans-templates/bubble-tea-cafe-financial-model-for-pitch

Model Highlights

Five year bubble tea cafe 3 way financial model for fundraising and business planning for startups and entrepreneurs. Key financial charts, summaries, metrics, and funding forecasts built-in. Created with the mind of the bubble tea cafe business.
Consider using Bubble Tea Cafe Financial Projection Excel before buying the bubble tea cafe business. Unlocked - edit all - last updated in Sep 2020.

Model Overview

Basic Excel knowledge and minimal previous financial planning experience is required to use a sophisticated bubble tea cafe three statement financial model: however, fully sufficient to impress bankers and investors with a proven, solid financial model.

BUBBLE TEA CAFE FINANCIAL PROJECTION EXCEL KEY FEATURES

Update anytime
You can easily adjust inputs at the launch stage and throughout the further activities of your business to refine your Bubble Tea Cafe Financial Model In Excel Template.

Graphical visualization in a convenient dashboard all in one
All necessary reports and calculations, including variable data for your easement, are displayed on a convenient Excel Financial Model dashboard tab. You do not need to move between sheets to compare important data - everything is visible immediately.

Generate growth inspiration
By running various scenarios and looking at the effects they could have on your cash balance, you will begin to see which options are best for your business. Ones that are possible, and what is involved in making them work. Organic growth isn't the only option - there are growing funding options becoming available, and Cash Flow Projection could be a way of looking at the impact an injection of cash could have on your business and its growth plans.

Easy to follow
Clear and transparent Bubble Tea Cafe Financial Model Excel Template structure (15+ separate tabs, each focusing on a specific planning category, colour coded => input, calculation and report sheets).

Run different scenarios
A Pro Forma Cash Flow Projection shows you what your cash balance will look like taking into account the numbers you put into the template. It means you can play with the various variables that impact your cash flow forecast, i.e., wages, sales inflow, supplier payments, taxes, and so on. By adjusting the input amounts, you will be able to see what impact they will have on your businesses' cash flow and when this impact is likely to occur. A well-known example of this is the ability to forecast the effect a new member of staff might have on your cash flow over different periods. Increase the wage costs and see what happens to your cash flow. Running different scenarios in your Projected Cashflow Statement can have several benefits.

Simple-to-use
A very sophisticated Bubble Tea Cafe Financial Model, whatever size and stage of development your business is. Minimal previous planning experience and very basic knowledge of Excel is required: however, fully sufficient to get quick and reliable results.

REPORTS and INPUTS

Loan opt-in
Calculating the necessary payments related to the obtained loan or mortgage is essential, especially for start-ups. At the same time, many companies may find this calculation to be a difficult task. In this case, our Pro Forma has a loan amortization schedule with an amortization calculator will help to plan and list these loan payments.

All in One Place
Our Bubble Tea Cafe Budget Financial Model has all financial reports crucial for start-ups and existing businesses. It has proformas for pro forma p&l statement, cash flow statement by month, and balance sheet. It also has templates for performance reviews and summaries on a monthly, quarterly, and annual basis.

Costs
Our Bubble Tea Cafe Financial Model Excel Template has a well-developed methodology for creating a cost budget. You can plan and forecast your costs from operations and other expenses for up to 72 months. The cost budget has a detailed hiring plan while also automatically handling the expenses' accounting treatment. You can set salaries, job positions, and the time of hiring.

Moreover, the model allows users to calculate hiring as the company scales automatically. Pre-built expense forecasting curves enable users to set how an expense changes over time. These pre-built options include % of revenues, % of salaries, % of any revenue category, growth (or decline) rates that stay the same or change over time, ongoing expenses, expenses that periodically reoccur, expenses that regularly change, and many more. Costs can be allocated to key expense areas and labeled for accounting treatment as SG&A, COGS, or CAPEX.

Top Revenue
This Finance Projection has a tab for a detailed analysis of the company's revenue streams. With this template, users can analyze the revenue streams by each product or service category separately.

Burn and Runway
The cash burn rate shows the difference between the cash inflows and cash outflows of the company. It is essential to monitor this metric because it shows how long the company will last with its current funding level. Business owners can also see a clear picture of how various business strategies change the cash burn rate.

Financial KPIs
With the help of the financial key performance indicators (KPIs), you can track your company's performance and improve its financial health. This Bubble Tea Cafe Financial Projection Excel allows showing the key performance indicators in the form of charts.

Cash Flow KPIs
Operating cash flow. Operating cash flow calculation shows how much cash the company generates from the business operations. This calculation does not include secondary sources of revenue, like interest or investments.

<----->

Increase your productivity with Excel Templates. Plan future Cash Flow Statements to avoid Cash Flow shortfalls. Manage finance with Budgeting Spreadsheets.

Welcome to FinModelsLab.com


- Henry Sheykin
https://www.eloquens.com/channel/henry-sheykin
This Best Practice includes
1 FREE TRIAL Bubble Tea Cafe Financial Model Excel Template
Henry Sheykin offers you this Best Practice for free!
download for free
Add to bookmarks