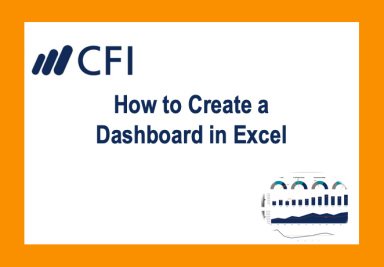 How to Create a Dashboard in Excel
This step-by-step method teaches the valuable skill of dashboard creation, provided by CFI.
Introduction
A good financial analyst needs to be a master of dashboard creation in Excel. It's not always a skill that comes naturally to people, and practice combined with good training is the key to success. In this free guide, we've outlined the most important tips and tricks for creating a dashboard in Excel. Whether you are a beginner or advanced, you will find some important takeaways in this tutorial.


In order to create an effective Excel dashboard, we recommend the following steps:
Step n°1 |

Dashboard creation step 1 – organize your data

Before you begin your dashboard creation in Excel it's critical to have your data well organized. We always encourage analysts to use Excel modeling best practices, whether building financial models or preparing to design a dashboard.


The most important part is to have all the information you plan on graphing in one area. It can very hard to link the graphs if data is spread out throughout the spreadsheet. 


In the image beside you can see an example of how to neatly organize your data from the financial model to be ready for the Excel dashboard.

Step n°2 |

Dashboard creation step 2 – setup your page

Once your data is organized it's time to setup the page. The orientation can be landscape or portrait, and the size will depend on the output you're trying to create. The most common is to make it an 8.5" by 11" page so it can easily print to paper or PDF in a standard size. Typically, dashboards are only 1 page, but you can easily create a multi-page dashboard as well. To learn how to do this, see our free xl tutorial course.


Important things to consider when setting up your page include: will the dashboard be emailed or printed; will it go to executives or lay people, is it for internal use or external use; should the information be mostly visual, or contain numbers and words as well.


For the purposes of this example dashboard, we will be using a 1-page 8.5 x 11 portrait page setup.
add_shopping_cartContinue reading for free (70% left)