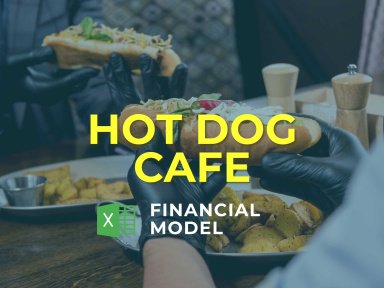 Hot Dog Cafe Pro Forma Projection - FREE TRIAL
Order Hot Dog Cafe Financial Projection Template. Fortunately, you can solve Cash Flow shortfalls with a bit of effort.

by Henry Sheykin
400+ Financial model templates
Follow 469
Description
This TRIAL will provide you with the idea of how the Hot Dog Cafe - Premium Version is structured and you will familiarize yourself with the END product before purchase.

You may check printable reports and use content to navigate the model tabs.

You may see pop-up notes and understand how the model works.

More details about the Hot Dog Cafe - Premium Version are here:

https://www.eloquens.com/tool/yZpPurBK/finance/restaurant-financial-plans-templates/hot-dog-cafe-pro-forma-projection-ready-for-pitch

Model Highlights

Hot Dog Cafe Three Way Financial Model for startups or established companies is the right choice when they need to raise funds from investors or bankers and calculate funding requirements, make cash flow projections, develop budgets for the future years, or to enhance a business plan.
Hot Dog Cafe 3 Way Financial Model Template helps you evaluate your startup idea and/or plan a startup costs. Unlocked - edit all - last updated in Sep 2020.

Model Overview

Generate fully-integrated hot dog cafe profit and loss statement proforma, cash flow projection, a balance sheet projections for 5 years (on a monthly basis). Automatic aggregation of annual summaries on the financial summary report.

HOT DOG CAFE FINANCIAL PROJECTION KEY FEATURES

Update anytime
You can easily adjust inputs at the launch stage and throughout the further activities of your business to refine your Hot Dog Cafe Profit Loss Projection.

Manage surplus cash
Most companies don't have excess cash in the bank. It is a well-known situation. But managing surplus cash for reinvestment in new market opportunities, or debt repayments can be essential to keeping stay in the business. Managers are entirely ready to plan for what to do with the cash surplus if they have the forecast of when and where the business will have surplus cash in the bank account. Pro Forma Cash Flow Projection will provide supplementary guidance on what to do with a cash surplus.

Simple-to-use
A very sophisticated Hot Dog Cafe Profit Loss Projection, whatever size and stage of development your business is. Minimal previous planning experience and very basic knowledge of Excel is required: however, fully sufficient to get quick and reliable results.

Manage accounts receivable.
By creating a cash flow statement projection that takes invoices and bills into account, you'll be more easily able to identify who is systematically paying late. You could even go on to model different payment dates on overdue invoices to see the real effect of late payments on your cash flow.

Build your plan and pitch for funding
Impress bankers and investors with a proven, strategic Hot Dog Cafe 3 Way Forecast that impresses every time.

Simple and Incredibly Practical
Simple-to-use yet very sophisticated Hot Dog Cafe Financial Model Excel Template tool. Whatever size and stage of development your business is, with minimal planning experience and very basic knowledge of Excel you can get complete and reliable results. Additionally, you will receive uncompromised after-sales service and access to valuable tutorial videos and blog posts.

REPORTS and INPUTS

All in One Place
This Hot Dog Cafe Pro Forma is key for investors. You will need a 3 Way Financial Model Template to validate how much money you need to start-up with and how much your investor can make on this investment. Remember that investors are not tolerant to start-ups that do not have a business plan or a Pro Forma Projection.

Liquidity KPIs
Quick Ratio or Acid-Test Ratio. The quick ratio or acid-test ratio uses a firm's balance sheet data to analyze if it has sufficient short-term assets to cover its short-term liabilities. This metric ignores less liquid assets like such as inventory.

CAPEX
CapEx (short for capital expenditures) is the company's expenses related to the acquisition, maintenance, or improvement of fixed assets such as property, buildings, factories, equipment, and technology. CapEx is included in the balance sheet, and it also can be reflected partially in the profit and loss pro forma and pro forma cash flow projection.

Valuation
With our pre-built valuation template in the Hot Dog Cafe Three Statement Financial Model, you will receive all the data your investors might need.
The weighted average cost of capital (WACC) will show your stakeholders the minimum return on enterprise funds invested in its activities capital. Free cash flow valuation will show a cash flow available to all investors, including shareholders and creditors. Discounted cash flow will reflect the value of future cash flows in relation to the current time.

Benchmarks
Financial Model benchmark tab calculates the company's key performance indicators, either business or financial, and finds an industry-wide average as a comparison. The industry average metrics are then used to determine the relative value for benchmarking analysis.

Financial benchmarks are essential for the financial planning of the companies, especially for start-ups. These studies help companies determine the 'best practice' companies within the industry and compare their own financial results with these best practices. It is a useful financial and strategic management tool.

Top Revenue
The Top revenue tab in the Cash Flow Format In Excel shows off the financial information regarding each of your offerings. In particular, with the help of this Hot Dog Cafe Excel Pro Forma Template, you can obtain an annual breakdown of your revenue streams, including the revenue depth and revenue bridge.

Loan opt-in
Our Hot Dog Cafe Financial Projection has a loan amortization schedule that will help users track everything related to their loans. You can find this template in the 'Capital' tab.
The loan amortization schedule has proformas with pre-built formulas for internal calculations of the loans, interest, and equity.

<----->

Increase your productivity with Excel Templates. Plan future Cash Flow Statements to avoid Cash Flow shortfalls. Manage finance with Budgeting Spreadsheets.

Welcome to FinModelsLab.com


- Henry Sheykin
https://www.eloquens.com/channel/henry-sheykin
This Best Practice includes
1 FREE TRIAL Hot Dog Cafe Financial Model Excel Template
Henry Sheykin offers you this Best Practice for free!
download for free
Add to bookmarks