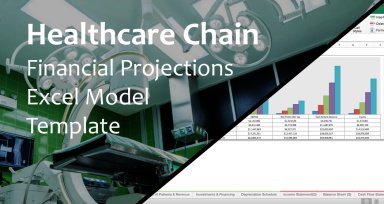 Healthcare Chain Financial Projections Excel Model Template
Financial model for healthcare chains, perfect for modeling financial projections.

by Mahender K. Punhani
Financial Modeler | Financial Analyst | Start-ups | Real Estate | Merger & Acquisitions
Follow 102
Description
This is the perfect template for modeling the finances of your healthcare chains. This excel model is incredibly detailed and includes 12 functional tabs, allowing you to input huge amounts of financial data to provide helpful outputs and graphs. The 12 tabs are:

- Index
- Assumptions
- No. of Patients & Revenue
- Investments & Financing
- Depreciation Schedule
- Income Statement (Quarterly)
- Balance Sheet (Quarterly)
- Cash Flow Statement (Quarterly)
- Income Statement (Yearly)
- Balance Sheet (Yearly)
- Cash Flow Statement (Yearly)
- Ratios

As such, this model provides an incredibly detailed and extensive overview of the financial performance and projections of your healthcare.

The index page includes an incredibly useful dashboard. This is a chart that visualises a huge amount of the data. This chart shows your:

- Revenues
- Gross Profit
- EBITDA
- Net Profit after Tax
- Cash & Bank Balance
- Equity

These are shown all over a 5 year projection period, allowing you to visualise potential growth.

The assumptions tab allows you to input a vast number of your financial assumptions for your project. This includes assumptions based on cost of revenue, operating expenses, capex assumptions, and other assumptions such as income tax rates and depreciation rates. This allows you to construct a model based on a 5 year period to project your key financials.

In the no. of patients and revenue tab allows you to model based on: number of visits, doctor's patients, clinics required, revenue gained from patients, revenue summary, cash received and income received. As such, in this tab you can construct an incredibly detailed log and projection of the revenue received from your patients.

The investments & financing tab will allow you to construct a detailed analysis of the financing of your projects based on startup expenses, startup assets, startup liabilities, startup investments in order to calculate your total funding requirements. You will also be able to monitor the depreciation rates of your healthcare equipment within the depreciation schedule tab.

The model also includes the space to create income statements, balance sheets and cash flow statements based on either quarterly or yearly performance. This allows you to construct a truly comprehensive financial overview of your project.

Finally, the ratios tab will show you your ratios of:

- Gross Profit Margins
- EBITDA Margin
- EBIT Margin
- Net Profit Margin
- Return of Assets
- Return on Equity
- Assets Turnover Ratio
- Working Capital to Revenue (%)
- Debt Equity Ratio
- EBITDA to Interest Cover
- EBIT to Interest Cover

Ultimately, this is model allows you to conduct a detailed and extensive analysis of the finances of your healthcare chain whilst also making projections for the future financial performance.
This Best Practice includes
1 Excel Spreadsheet
Acquire business license for $19.00
Add to cart
Add to bookmarks