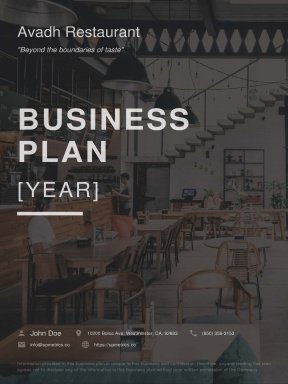 Restaurant Business Plan Example
Are you thinking of starting a restaurant business? We have prepared a restaurant business plan example that guides you on every stage of your business plan.

by Upmetrics.co
#1 business plan software
Follow
Description
A restaurant business plan contains planning, marketing, finance, human resource, and other functions combining all aspects. All-inclusive business strategies help you to map your progress and taking precise action.

So the question is, what is the best way to start your journey in the restaurant business?

And the answer to that is, start with a business plan.

But, before you start writing a business plan, spend as much time as you can reading through some samples of food and restaurant business plans.

Reading sample business plans will help you understand what you are aiming for and what the final business plan will look like.

It will also show you different sections that different entrepreneurs include and the language they use to write about themselves and their business goals.

We have created this sample restaurant business plan to help entrepreneurs to kickstart their journey of business plan writing and to make sure they do not miss a single thing in their business plan.

Restaurant Business Plan Outline
This is the standard restaurant business plan example outline which will cover all important sections that you should include in your business plan.

Executive Summary
Overview
Market Opportunity
Management
Financial Projections & Funding
Avadh
The Restaurant Concept
Technology
Business Model
Objectives
Keys to Success
Long Term Strategy
Intellectual Property
Sustainability
Sample Menu
Menu Items
Restaurant Operations
Customer Service
Operating Policies
Strict Inventory Controls
Purchasing Cost Controls
Recipe a Portion Controls
Menu Blending
Sanitation a Food Handling
Operating Standards
Management's Role
Software a Systems
Money a Profit Management
Training
Hiring the Best
Training for Excellence
Retaining the Best
Controlling Costs
Food Costs
Equipment Costs
Staff Turnover / Training Costs
Location
Operating Details
Industry Analysis
Industry Overview
Restaurant Demographics
Millennials
Fast Casual Ming
Denning Fast Casual
Fast Casual Asian Food
Tempe Arizona
Select Demographic Data
Competition
Competitive Landscape
Direct Competitors
Competitive Advantages
Marketing
Target Market Overview
Market Positioning & Brand
Marketing Strategies
Company & Management
Company
Management Team
John Doe
Jane Doe
Staffing Plan
External Issues
Financial Plan
Startup Expenditures
Revenue Assumptions
Cost of Goods Sold
Operating Expense Assumptions
Balance Sheet Assumptions
Bank Loan Assumptions
Balance Sheet Forecast - Years 1 to 5
Income Statement Forecast Year 1 to 5
Cash Flow Forecast - Year 1 to 5
This Best Practice includes
1. PDF File
Upmetrics.co offers you this Best Practice for free!
read for free
Add to bookmarks