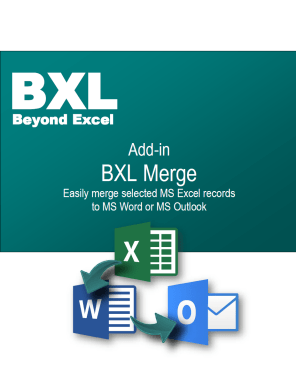 BXL Merge - Merge Excel Data directly to Word and Outlook
Merge all or selected table records from Excel to form letters or preprinted forms in MS Word to print or email
Craig Hatmaker offers you this Best Practice for free!
download for free
Add to bookmarks
Further information
Easily merge selected records in Excel with Form letters and preprinted forms for printing or emailing with Outlook
Windows version only. Requires Excel (2010 or later), MS Word and Outlook (if emailing documents)
Not for use with Mac. Not for use with Excel versions 2007 or earlier.