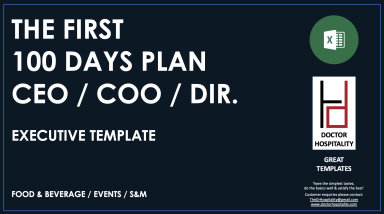 CEO First 100 Days Plan
CEO / COO The First 100 Days Plan - Excel File

by Doctor Hospitality
FOOD, DRINK, HOTELS & the Art of SERVICE
Follow 16
Description
A 100-day plan outlines the most urgent value-creation steps that firms can take as soon as the deal closes. The objective is to identify key value drivers and create a roadmap to make improvements in those areas.

Whether you're starting a new job, being promoted from within, embarking on an overseas assignment, or being tapped as CEO, how you manage your transition will determine whether you succeed or fail. Use this as your trusted guide

Key Features: -
Ready for editing and printing
Data and example loaded is for a Group GM / VP of Food & Beverage

Contents:
5 Year Strategic Plan
Morale and Culture
Incentive Plans
Improvements in Business Knowledge and Fresh Ideas
Human Resources
Finance & Reporting
Departmental and Leadership Team
Overheads Review
Merchandise and Inventory Management
Marketing
Competitors and New Markets
Communications (Internal & External)
Business Analytics
Risk Management
Systems and Infrastructure

--

A trusted guide for leaders in transition.

Transitions are a critical time for managers. In fact, most agree that moving into a new role is the biggest challenge a leader will face. While transitions offer a chance to start fresh and make needed changes in an organization, they also place leaders in a position of acute vulnerability. Missteps made during the crucial first three months in a new role can jeopardize or even derail your success. In this updated and expanded version, proven strategies for conquering the challenges of transitions-no matter where you are in your career.

How to secure critical early wins, an important first step in establishing yourself in your new role.

Simple & Professional: -
- Excel document template
- Immediate download
- Fully unlocked template

What is included?
- One completed template ready to receive your data

Other Information: -
Built for MICROSOFT Excel 2010 or later
Licensed for Private Use Only (not for distribution or resale)
The template may NOT be sold, distributed, published to an online gallery, hosted on a website, or placed on any server in a way that makes it available to the general public.

Contact us directly for any specific needs with your project, we will be happy to help:

--
DOCTOR HOSPITALITY
'have the simplest tastes, do the basics well & satisfy the best'

For any customer enquiries please contact us via Private Message.

The Dr Hospitality team provides private and corporate clients alike with F&B consultancy, project management and brand management services, as well as turnkey and bespoke restaurant concepts solutions.

Our strategy consists in adopting a multidimensional approach to any set situation. We do not only take into account the local and global customer trends but as well as the elements pertaining to the social economic, commercial and logistic environment.
This Best Practice includes
1 Excel File, Fully Editable & Working 'Live' File & Ready for Print
Acquire business license for $29.00
Add to cart
Add to bookmarks