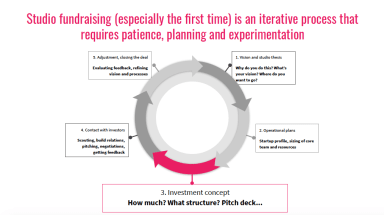 Startup Studio Fundraising Fundamentals - Public version
This presentation is for startup studios and founders who are preparing to raise funds for their new venture builder

by Attila Szigeti
I will help you build and grow your startup studio, venture builder
Follow 61
Description
Startup studios are efficient in producing many startups in parallel. You can achieve higher success rate than with any other startup building approach. That comes with a high capital need, especially when starting a new studio from zero.

The fundraising process is also more challenging. Because a venture builder needs to excel in more areas than a single startup. You build  your fundraising success on strong foundations. You have to show and prove:
+ Financial-organizational structure that matches your goals;
+ A timely and coherent vision and investment thesis;
+ Viability of your approach;
+ Capable leadership;
+ Portfolio traction.

With the right preparation and fundraising approach, you can do all this. You need to make sure to have a solid strategy and prepare to answer the tough questions including:
Do you want to raise the capital into your studio or establish a separate fund? Why this way?
Will the studio act as the GP or who will? Will this be an official fund or a holding company?
How to cover the studios operational costs? For a management fee and carry or charge the startups? Or do you have another solution?
How will you manage conflicts of interest between the Studio the Fund and the Startups?
How will you ensure successful exits of your portfolio and thus ensuring a high fund ROI?
If you are converting your agency into a studio: How to value your current assets? How will you restructure your organization to fit the new strategy?
Are you raising a fixed-life fund or evergreen fund? How will you handle raising new capital when needed?
How will your studio preserve it's equity part in the startups and solve the "dead equity" concern?
Will you create ventures from internal process or join existing teams? What is your financial modeling backing up your approach?

And the list of expected questions goes on and on. The due diligence is also tough. You better prepare even before your first meeting with the investor.

 I was COO of our studio for 3 years, I participated in organizing our first studio pre-seed fund, where I'm now CEO. And preparing to raise our second fund. I also worked together with dozens of studios world-wide. So the studio fundraising is a topic very close to my heart and expertise.

My mission is to help startup studios grow, and I can help you:
+ Structuring your venture builder and fundraising strategy;
+ Assess your current material and identify gaps and risks;
+ Preparing for a successful investor meeting;

So when it's time to start raising your studio funds, give me a call.
This Best Practice includes
1 PDF file with 27 slides
Attila Szigeti offers you this Best Practice for free!
read for free
Add to bookmarks