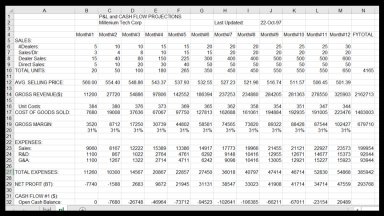 Profit & Loss Statement, Balance sheet and CF forecast template
Template designed to understand, keep track and plan for the success of your business.

by WUTIF Capital (VCC) Inc.
British Columbia Based Angel Fund.
Follow 63
Description
Profit and loss projections or statements are normally used to plan for performance of a firm. In other words, this means determining how profitable the business will be. With this information, we can fine tune our venture for optimal performance. In this situation, when P&L forecasts are compared with those of other companies, should this be competitors or role models, it helps firms realize what needs to be prioritized.

This is followed by the cash flow section, the lower part of the P&L template. The statements tell us little about the cashflow of the business, but rather it is accounted for on an "accruals" basis; in other words, the changes in assets and liabilities, rather than cash. This means that the cashflow statement is important to determine how much money is needed to start a venture. Aside from that, all companies keep track of their cash flow on a daily basis to ensure there is enough to survive the short term. Ultimately, this is done because what matters is the present state/survival of the firm.

Lastly, the balance sheet worksheet provides a financial snapshot, that allows us to know the state of the business, in terms of its assets and liabilities. Assets being cash, inventory and accounts receivables in contrast to liabilities, being bank ineptness and accounts payables. To know how much we have in assets after a certain period in the future, it is essential that we have a balance sheet to forecast financial health, i.e adequately funded. Indeed, the balance sheet is also very helpful to bankers or investors to assess risk and collateral problems.

The 3 sections can be found on the excel template. You will find the balance sheet on the first worksheet, and the P&L Projection with its lower cash flow forecast on the second worksheet.

Along with the excel file, you may download corresponding PDF files that give further information on the three topics. Here you may find tips as well as guidance on how to work on the template's sections.

-
This Best Practice includes
1 excel sheet, 3 PDF files
WUTIF Capital (VCC) Inc. offers you this Best Practice for free!
download for free
Add to bookmarks