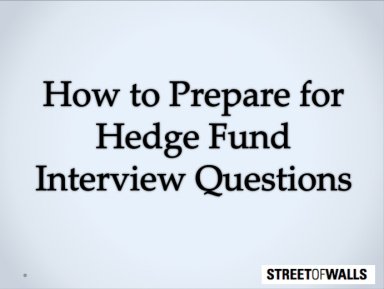 How to Prepare for Hedge Fund Interview Questions
This guide contains potential interview questions that are specifically tailored to hedge fund candidates.
Introduction
Hedge fund interviews are much less structured than other financial services interviews, such as investment banking, management consulting, etc. Typically, first round interviews at a hedge fund consists of 2-3 thirty-minute interviews with portfolio managers and/or senior analysts. These interviews are typically behavioral. The first few rounds are meant to weed out most of the personalities and backgrounds that do not fit the firms.


Hedge fund portfolio managers want to see these qualities:


1. Are you a normal human being?
2. Will you work hard for us?
3. Will you make us money?
4. Do you know how to pick good investments?


Understanding how to pitch both long & short investments is the most important skill to have. This cannot be stressed enough. One one-page case study and two full-blown case studies are provided below, but every situation is different. You will need to see multile case studies, which we will review further in chapters to come.


Generally, hedge fund technical questions are the same questions investment bankers receive but tend to be a bit more accounting focused. If you need to brush up on technical interviewing skills, try the Street of Walls Investment Banking Technical Interview guide on the website.
Step n°1 |

Behavioral Questions:

> Tell me about yourself. Walk me through your resume.
> Why do you want to work for a hedge fund?
> Do you have an industry preference?
> What do you plan to do in the next 5-10 years?
> Have you had a performance review? What did it say?
> What skills do you feel are transferable to this industry?
> What separates you from other candidates?
> Why are you working in your current industry?
> Do you plan on going to business school? Why or why not?
> Why do you want to work for our firm in particular? What is attractive about our firm?
> What would you say are our firm's strengths and weaknesses?
> What skills do you bring to our firm?
> Why do you think you'll be successful as a hedge fund analyst?
> What do you invest in?
> What do you think of the markets in general right now?
> If you could invest in anything, anywhere in the world right now, what would that be?
> Do you own any stocks or do any non-work related investing?
> Who is your favorite portfolio manager?
> What books are you currently reading?
> What happened when you worked with a team and one member wasn't contributing? How did you respond?
> What happens when you face more work than you can handle?
> What are you biggest strengths? Biggest weaknesses?
> What are the easiest decisions for you?
> Are you risk-averse or do you like taking risk?
> What would your work colleagues say about you?
> Who else are you interviewing with?

Step n°2 |

Investing Questions:

> If you had $100,000 to invest, where would you put it?
> Do you have a Personal Account? What stocks do you own?
> Give me a long idea. Give me a short idea.
> How do you screen for stocks? What is your holding period?
> What is the Federal Funds Rate?
> What do you think of the economy?
> Where do you think interest rates are going? What is driving them?
> What does the yield curve look like and what does it mean?
> What has been happening in the market the past six months?
> What do you read to find out your news? Wall Street Journal? The New York Times?
> What is Duration? What is Convexity?
> What does the term delta mean? What does Alpha mean?
> What is meant by the term "securities lending"?
add_shopping_cartContinue reading for free (70% left)