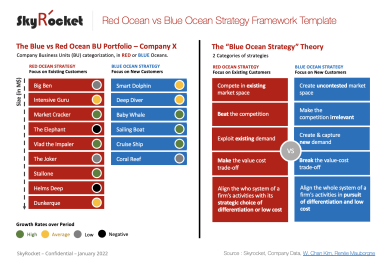 Blue Ocean Strategy Template
A hands-on Blue Ocean Strategy Framework PowerPoint Template for Business Leaders to categorize their Business Units, on Blue vs Red Ocean Markets.
Description
In 2005, Prof. W. Chan Kim and Prof. Renée Mauborgne (INSEAD, Fontainebleau, France), published a book called "Blue Ocean Strategy: How To Create Uncontested Market Space And Make The Competition Irrelevant" (available on Amazon here: https://www.amazon.fr/Blue-Ocean-Strategy-Uncontested-Competition/dp/1591396190 ). The book advocates a Marketing Theory in which organizations should make strategic leaps in new uncontested market spaces to create shareholder value. A sequel to the book was published in 2017 - "Blue Ocean Shift". According to their study of more than 30 industries, companies who successfully implement a Blue Ocean Strategy, and alter their strategic course past traditional industry boundaries, reap the benefits for 10 to 15 years.

The book shares a number of frameworks and tools to help an organization create and re-position itself (or its business units), in "Blue Oceans", or unexplored markets (vs Red Oceans - where competition is intense). More information on the framework by it's creators can be found here: https://www.blueoceanstrategy.com/

🥊 BLUE OCEANs vs RED OCEANs:

🟥 RED OCEANS:
- Compete in existing market space
- Beat the competition
- Exploit existing demand
- Make the value cost trade-off
- Align the who system of a firm's activities with its strategic choice of differentiation or low cost

🟦 BLUE OCEANS:
- Create uncontested market space
- Make the competition irrelevant
- Create & capture new demand
- Break the value-cost trade-off
- Align the whole system of a firm's activities in pursuit of differentiation and low cost

Example of a company who made a move into a "Blue Ocean":
- 1984 -> CIRQUE DU SOLEIL, in a long term declining Circus Market, moved its show closer to the "Theatre" style (also removing certain costly animals and star performers), attracting an audience capable of purchasing premium tickets. Here the simultaneous pursuit of VALUE & COST is typical of a "Blue Ocean Strategy".
Other examples (Nintendo Wii, Yellow Tail...) can be found here: https://yonderconsulting.com/3-examples-blue-ocean-strategy/

Given the popularity of the Blue Ocean Framework, I decided to have a shot at creating a pragmatic template for organizations with multiple Business Units, Products or Services, to categorize their activities in Blue Oceans or Red Oceans. The attached PowerPoint Template is used following a simple methodology:
1️⃣ Study the Blue Ocean Strategy Theory
2️⃣ List your Business Units (BU)
3️⃣ Categorize them in Blue or Red Oceans (using the Theory on the right hand side)
4️⃣ Rank each BU by Size (Turnover, Profitability, Number of Sales...), in each Blue or Red Ocean Category
5️⃣ Add their Growth Rates (High, Average, Low, Negative)
6️⃣ Take decisions on which Business Units to invest in, divest or sell.

The Best Practice is:
- an editable Microsoft PowerPoint Template Slide
- with an online & offline 7 step-by-step methodology, with pedagogical illustrations for each step.

Should you have any questions about this top tier competitive advantage strategy framework template, you're welcome to reach out to me via Private Message.

Good Luck!
- Tim

Other pertinent readings on "The Blue Ocean Strategy":
- Kim's and Mauborgne's official website:https://www.blueoceanstrategy.com/what-is-blue-ocean-strategy/
- Harvard Business Review - Explainer Video:https://hbr.org/video/6089366740001/the-explainer-blue-ocean-strategy

You can also follow a Blue Ocean Strategy Programme at INSEAD here: https://www.insead.edu/executive-education/strategy/blue-ocean-strategy

⭐️ Bundle of 19 Strategy Consulting Frameworks (including this one): https://www.eloquens.com/tool/a7rgt4Bb/strategy/management-consulting-templates-and-frameworks/classic-strategy-frameworks-template-slides-bundle
This Best Practice includes
1 PowerPoint Template Model + 1 Online/Offline 7 Step-by-Step Methodology
Tim Demoures offers you this Best Practice for free!
download for free
Add to bookmarks