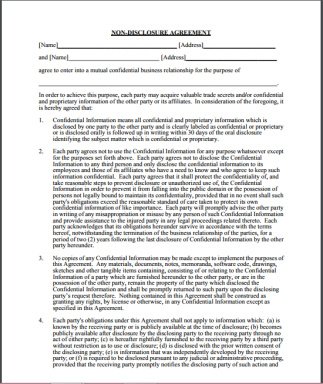 Mutual Non-Disclosure Agreement
A Mutual Non-Disclosure Agreement template for the protection of sensitive information between two parties.

by Marty Zwilling
Founder & CEO, Startup Professionals, Inc.
Follow 270
Description
An NDA is a legally binding contract intended to establish a confidential relationship between 2 parties; one who holds confidential information or trade secrets, and the other being the person to whom the sensitive information will be disclosed.

They are generally used for:

Protection of sensitive information. Upon signing an NDA, participants agree not to share information that has been shared with them by the other party involved. If the information in question is shared, the injured party has the right to claim breach of contract.

In cases of new product or concept development, an NDA can help protect the patent rights of the inventor. A lot of the time, disclosing a new invention to the public can void the patent rights.

NDAs and confidentiality agreements are useful for outlining what can be shared fairly and what is required to be kept private. In a lot of cases, the contract will serve as a document outlining this distinction.

There is no limit on what you can include in an NDA. Anything that is considered knowledge exchanged can be classed as confidential information.

What all NDAs have in common however, is what is included around the information it protects. i.e. what defines and what doesn't define confidential information, the obligations of all parties, and the periods of time.

NDAs and confidentiality agreements are really common in the modern environment. Think lawyers and clients or doctors and patients.

Mutual Non-Disclosure Agreements should be considered if:

Confidential information will be shared with another party.
You're about to be allowed access to information that belongs to another party.

You're working with another person or party on new ideas that need to be kept private.

You're working with an external organisation or consultant managing confidential information.

A new business idea or product is being developed and you'd like to protect the original IP before it is released into the public domain.

When these situations arise, Mutual Non-Disclosure Agreements can help to ensure that your privacy is respected and your information kept confidential.
This Best Practice includes
1 Downloadable Mutual Non-Disclosure Agreement Template
Marty Zwilling offers you this Best Practice for free!
download for free
Add to bookmarks