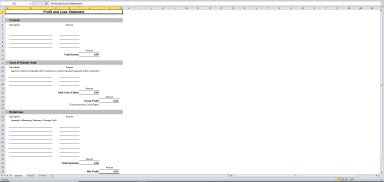 Profit & Loss Statement Template in Excel
This is a blank Profit & Loss Statement (or Income Statement) made in Excel.

by Sarah Booysen
Owner and Developer at Beginner Bookkeeping
Follow 12
Description
This statement presents the income and expenses of a company, which is why it can also be known as the Income Statement. It can also be referred to as the Statement of Financial Performance.

On the profit and loss statement you will find:
The total cost of goods sold
All of the income
The accounting profit or loss result
All the deductible business expenses

The profit and loss statement does NOT include:
Equity
Liabilities
Assets

You will find these details on the Balance Sheet. Unlike the balance sheet, the profit and loss statement can be prepared every week, month, or year.

It is recommended that you produce a profit and loss statement monthly so that you can keep track of how your business is performing. These conclusions can be based off cash or accrual figures.

What is the Profit and Loss Statement Used For?

Tax Calculation

The 'net profit' figure will be used for working out the Income Tax that is payable to the government. This is completed at the end of each financial year, which is 12 months in total.

If at the end of the year the result is a loss, typically you will not pay any income tax because in a business, a loss is tax deductible. However this is not so good for daily management of the business as it signifies that cash flow is tight and you'll find it tricky to cover your expenses.

Loan Applications

If the company is applying for a loan, the lender will want to examine the company's P&L statement to evaluate if loaning the company money makes financial sense.

Check the Cost of Goods Sold

The statement is also used to help the accountant or bookkeeper if the company is recouping the cost of goods sold.

Analyze Business Trading Trends

You can use the profit and loss statement to draw up a chart of monthly summary figures to demonstrate business trading trends i.e. the increase and decline of expenses and income. This provides the business owner with an opportunity to evaluate business activities and ask questions about the business that could lead to major or minor changes.

Helping to Improve Business Operations

Finally, the income statement can aid management in deciding ways in which business operations could be improved, e.g. where in the business they could cut down expenses.

*Originally shared on beginner-bookkeeping.com*
This Best Practice includes
1 Blank Profit and Loss Statement Template
Sarah Booysen offers you this Best Practice for free!
download for free
Add to bookmarks