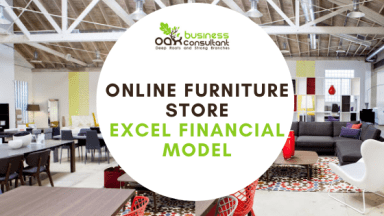 Online Fashion Clothing Store Excel Financial Model
Online Fashion Clothing Store Excel Financial Model is suitable for all retail online stores with all relevant fields.

by Sadaf Abbas
CEO- Oak Business Consultant
Follow 33
Description
Our Online Fashion Clothing Store Excel Financial Model provides you a complete framework for all your business financial insights with relevant input tables, charts, and graphs to make and deliver informed business decisions based on accurate reporting and financials.

Oak business consultant makes this financial model template, which has a financial plan for a clothing store with a 5-year forecast, particularly for clothing style experts. Our Online Fashion Clothing Store Excel Financial Model will help you organize and launch a highly successful online boutique. By using this template, you won't get distraction by complex financial calculations. In spite, you can focus on your marketing strategy, product development, and communication with loyal customers.

This financial model Excel template is a 5year financial model, with detailed cash-ins and out analysis, and an IRR analysis and DCF valuation for an online clothing business. This excel template enables you to gauge how much investment you require to start an online store and, by taking into account several input assumptions, whether the operation itself is likely to bring in sufficient revenue.

Moreover, this financial model is handy and easy to use; you wouldn't require any specific professional financial knowledge to understand this model; by having a minimal understanding of business financials, you can efficiently use it.

Similar Business Model

This model is based on the following businesses:
Boohoo, Shien, Next USA, and ASOS.

Key Inputs

- Advertising Budget – Input is linked to Sales, the more you spend on the advertisement the
more sales you'll generate.
- The growth rate of Visitors- at what rate your visitors are coming to your website.
- Rate of Refund - at what rate your sold products return back by customers.
- Percentage of Converted Repeat Customers – At what percentage of new total customers
come to your restaurant repeatedly.
- Average Payable and Receivable days your business is following.
- Cost of Good Sold Percentage of each Product.
- Inventory Rate
- Average Price of each product category.
- Tax Rate

Key Features of Online Fashion Clothing Store Excel Financial Model

Input Sheet – This sheet linked with all related financial statements; make a change to this
the sheet will impact the result of all financial automatically
- Startup Summary Plan
- 5 years detailed Monthly and Yearly Income Statement
- 5 years detailed Balance Sheet Statement
- 5 years details Cash Flow Analysis
- Detailed KPIs – Full KPIs with dashboards.
- Dashboards – The Online Fashion Clothing Excel financial model contains dashboards and
visuals
that enable users to understand the complete financial positions of the company quickly.
- Diagnostic Tools – This Diagnostic sheet automatically calculates the data such as the
Profitability ratio, Net operating expense ratio to expense, etc.,
- Depreciation & Amortization Schedule
- Break-Even Analysis Summary
- Project Evaluation Sheet – Calculates the company's valuation and IRR

What Makes this Model A Great Buy?

There are various reasons which make this Financial Model Excel template beneficial for your business:

- Help you forecast your revenue and business viability, balance Sheet, and income
statements, vital financial KPIs, cash flow, profit, all presented in graphs and summaries of
the financials.
- The Online Furniture Store Excel Financial Mode uses calculations based on customer
- Purchasing Traffic and buy assumptions to have an accurate result.
- Investor-friendly and easy to understand.
- Error-free projections Hence, easy to change
- 5-year expense assumptions
- Schedule your depreciation amount
- To calculate startup expenses.
- Track and organize revenue streams.
- Document your revenue model
- In this financial model excel template, all necessary Calculations and estimation are
visually represented on a dashboard. You don't need to move sheets to compare data.



This Best Practice includes
The Excel Model
Acquire business license for $300.00
Add to cart
Add to bookmarks