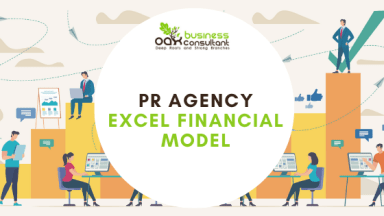 PR Agency Excel Financial Model
The public relations agency excel pro forma is a full-dimensional 5-year financial planning template for PR Agencies.

by Sadaf Abbas
CEO- Oak Business Consultant
Follow 33
Description
If you are a Market Enthusiast who wants to start their PR Agency or update the existing one with a detailed, comprehensive financial plan, so you are at the right place. Oak Business Consultant has developed a most dynamic and adaptable PR Agency Financial Model, which gives the user an in-depth understanding of the Agency's financial statements, KPI performance, and company's actual worth. The PR Agency Financial Model will allow the user and agency's potential investors to make informed and smart decisions regarding the Agency's future feasibility and profitability.

The PR Agency excel financial model is a fully-dimensional 5-year financial statement plan for a company operating under a public relations agency business niche. The template would suit both a public relations agency startup and a running public relations agency. The PR agency financial model excel template includes all necessary forecasting reports, includes industry-specific revenue assumptions, 3 Statement financial reports( Monthly and Annually Income Statement, Balance Sheet, and Cash Flow Statement), performance KPIs, valuation charts, and startup Summary Plan. This model will help you not only make financial projections for a PR agency start-up, but it will also help attract potential investors.

This PR Agency Financial Model will assist you in managing and organizing your Agency efficiently. Using this model, you cannot be distracted by complicated calculations, enable you to utilize more of your time in operation activities, marketing activities, and manage your customers' tasks.

Similar Business Model

21 Media Group, 104 West, and 360 PR+, etc.

Key Inputs of PR Agency Excel Financial Model

- The growth rate of Product Prices and Expense growth rate
- Cost of Good Services related percentage of revenue
- Average Price of each product category with its sales percentage.
- Tax Rate.
- Marketing Cost- Included all social platforms.
- Capital Expenditure on all Assets that are bought to start business operations.
- Payable & Receivable Day's inputs enable the model to calculate Account Receivable and Accounts - -
Payables in the balance sheet.
- Operating Expense: Enter all appropriate operating expense amounts to calculate OPEX.
- Monthly Employee Payroll Monthly Basis.
- Revenue Assumption- All services category's average prices and sales allocation percentage.

Key Features of PR Agency Excel Financial Model

- Input Sheet: This sheet linked with all related financial statements; make a change to this
the sheet will impact the result of all financial automatically.
- Startup Summary Plan: This sheet provides insight into all those expenses incurred in the first year
and before the beginning of the business.
- 5 years detailed Monthly and Yearly Income Statement
- 5 years detailed Balance Sheet Statement
- 5 years details Cash Flow Analysis
- Detailed KPIs – Full KPIs with dashboards.
- Dashboards – The PR Agency Excel financial model contains dashboards and
visuals that enable users to understand the complete financial positions of the company quickly.
- Diagnostic Tools – This Diagnostic sheet automatically calculates the data such as the
Profitability ratio, Net operating expense ratio to expense, etc.,
- Break-Even Analysis Summary
- Project Evaluation Sheet – Calculates the company's valuation and IRR

Benefits of PR Agency Financial Model

Help to Determine Trends: This financial model allows the analysis of the financial statements from month to month and year to year to help the user see growth trends. At the same time, it enables the user to show whether the business owner is meeting projected estimates.

Well-Formatted & Presented: All core 3-financial statements (income statement, cash flow, and Balance Sheet) are accurately presented and connected with the input and formatted in a well-structured way. Also, it follows a particular color theme, which is consistent in all sheets.

Investor's Friendly: All related investor metrics are included; therefore, investors will appreciate the financial model's full transparency while considering investing in your business.

Feasible & Manageable: This financial model is exceptionally adaptable and easy to use by anyone with basic knowledge of Excel and Financial Principle to analyze their business performance.

Mitigate Risk: The financial model can mitigate the financial risk of the company. It will allow users to determine what-if or simulation analysis. The user can predict the outcome of marketing campaigns, the cost of entering a new market, and the effect of price changes on the industry, among many.

Provide Financial Assistance: The PR Agency Financial Model excel template enables you to begin your startup planning with the maximum assistance and least confusion. No composing equations and formulas, no designing and programming, and no need to hire a costly external consultant required.
This Best Practice includes
1 Excel File
Acquire business license for $350.00
Add to cart
Add to bookmarks