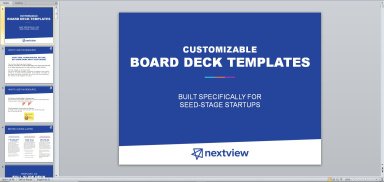 How to Up Your Board Meeting Game as a Founder
Board Deck Template for board meetings so that you can get the most out of them as a seed-stage startup.

by Next View Ventures
Investing in founders that are redesigning every day life.
Follow 10
Description
The Purpose of Your Board Meeting

Board meetings can be easily perceived as a reporting mechanism, so to really make the most of the time and excel at leading board meetings, its all about discussion, communication, and action items for after the meeting is over. Board meetings shouldn't just be about giving updates to your investors and directors about what you've been up to. They're a good opportunity to create a structure of communication for problem solving purposes and drive the business forward.

There are a number of founders who hold back from spinning up a board early; this could be due to the perception that investors may make an attempt to take control of the company, or concern that they're throwing too many balls in the air at the one time. But whatever the reason is that they may be avoiding it, there are way better reasons as to why board meetings should be held early in a startup's life. All of these reasons can be summed up and put into one benefit: to prepare for becoming successful. Put in another way, seed-stage companies could be led by the founder, but for companies that are scaling it's necessary to have a CEO. For an entrepreneur to grow from a founder to a real CEO, it helps to act as though your business is at the next stage already.

Here's where board meetings can be so useful. Central to any CEO's job is thinking through strategy and reflecting on operations, as well as communicating these things to various constituents. Founders who set up and lead effective board meetings from the very beginning stages of the business more quickly develop that crucial muscle memory.

This is where board meetings can be really useful. A focus point to the job of any CEO is to think through strategy and reflect on operations. As well as this they need to communicate these things to different constituents. Founders who can set up and effectively lead board meetings from the very start can develop quicker that all important muscle memory.

*Originally shared on NextViewVentures.com*
This Best Practice includes
1 Board Deck Template
Next View Ventures offers you this Best Practice for free!
download for free
Add to bookmarks