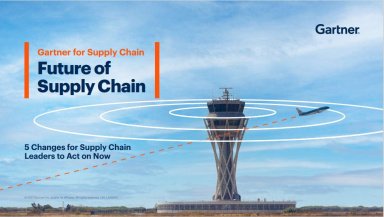 Future of Supply Chain
Gartner Research document about "Future of Supply Chain" - '5 Changes for Supply Chain Leaders to Act on Now'

by Ravi Nidagundi
Supply Chain Practice Head
Follow
Description
The COVID-19 crisis has been a catalyst for supply chain transformation, but radical change still lies ahead.
Gartner surveys of hundreds of supply chain leaders reveal that chief supply chain officers (CSCOs) will need to navigate five major shifts over the next five years. The CSCO's imperative will be to meet purpose-driven goals whereby product sourcing, manufacturing and delivery processes serve a higher purpose and maintain economic viability. This guide outlines those new realities, along with specific actions that CSCOs can take to reshape how supply chains organize and operate to prepare for future demands.

Supply chain digitalization
Globalization and offshoring
New business models
E-commerce shift
Remote and distributed teams

Looking ahead: Purpose-driven supply chains
The supply chains of tomorrow will mirror the greater purpose of their top leadership. Purpose is not only linked to what is made, how it is made and who it serves — it's also part of the identity of the organization and the supply chain. Our research shows that supply chains are becoming increasingly purpose-driven.Purpose isn't just about "going green." Purpose-driven supply chains take proactive steps to regenerate lost natural capital by identifying relevant material issues, putting targets in place, taking action and influencing others to do the same. They recognize that the organization's
purpose cannot be fulfilled unless the context in which business takes place is stable and improved. This means taking positive steps to enhance environmental and community welfare. The pandemic highlighted the importance of supplier relationship management and being a customer of choice. Purpose-driven supply chains move beyond transactional relationships, focusing on innovation and collaboration. Being profitable is no longer enough. Organizations led through supply chains need to demonstrate purpose by showing how their actions benefit stakeholders.
Forward-looking supply chains will integrate this concept into how business is done.

This Best Practice includes
1 PDF document
Acquire business license for $10.00
Add to cart
Add to bookmarks