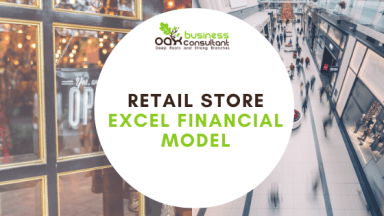 Retail Store Excel Financial Model
Retail Store Financial Model is ideal financial plan for all retail stores business with all relevant inputs and tables

by Sadaf Abbas
CEO- Oak Business Consultant
Follow 33
Description
If you are a businessman or an entrepreneur and planning to start a retail business. In that case, you need a solid and effective financial model to visualize your goals and your business's standing in the future. The Retail Store Excel Financial Model made by an Oak Business Consultant is dynamic and can Forecast all the circumstances or events that will either positively or negatively affect your business, managing your business's cash flow, and overall management.

This Financial Model will be your basis to create your Retail store financial planning and help you to determine 5-years monthly and yearly financial statements( Income Statement, Balance Sheet, and Cash Flow), Break-Even Analysis, Performance KPIs, Startup Summary Chart, and other Diagnostic charts, etc. The model uses a bottom-up approach to calculate the Revenues that would be derived by applying the respective pricing assumptions (up to 15 product categories). OPEX and capital expenditure other assumptions are then used to prepare detailed profit and cash flow forecasts.

The Retail Store Excel Financial Model will assist you in managing and organizing your business efficiently. Using this model, you cannot be distracted by complicated calculations, enable you to utilize more of your time in operation activities, and manage your customers' tasks.

Key Inputs

- Average Monthly Store Visitor.
- The growth rate of Visitors- visitor traffic monthly growth rate
- Rate of Conversion- At what percentage visitors converted into customers.
- Rate of Refund - at what percentage your sold products returned by customers.
- Percentage of Converted Repeat Customers – At what percentage of new total customers come to
your restaurant repeatedly.
- Average Payable and Receivable days your business is following.
- Cost of Good Sold Percentage of each Product.
- Inventory Rate
- Average Product purchased by the customers
- The average amount spent by customers in each category.
- Tax Rate
- Cost of good sold, how many percentages of revenue spends as COGS

Key Features of Retail Store Excel Financial Model

- Input Sheet: This sheet linked with all related financial statements; make a change to this
the sheet will impact the result of all financial automatically.
- Startup Summary Plan: This sheet provides insight into all those expenses incurred in the first year
and before the beginning of the business.
- 5 years detailed Monthly and Yearly Income Statement
- 5 years detailed Balance Sheet Statement
- 5 years details Cash Flow Analysis
- Detailed KPIs – Full KPIs with dashboards.
- Dashboards – The Retail Store Excel financial model contains dashboards and
visuals that enable users to understand the complete financial positions of the company quickly.
- Diagnostic Tools – This Diagnostic sheet automatically calculates the data such as the
Profitability ratio, Net operating expense ratio to expense, etc.,
- Break-Even Analysis Summary
- Project Evaluation Sheet – Calculates the company's valuation and IRR.

BENEFITS OF RETAIL STORE FINANCIAL MODEL

Uniform Methodology: The major benefit of a retail store financial model is that it promotes a uniform methodology by which the user can compare changes in a company's operations over time.

Achieving Best Returns: Through meticulous financial planning, the user can maximize return on investments. A proper analysis of the liquidity positions, liabilities, and opportunities against the set financial goals can help get good returns.

Mitigate Risk: The financial model can mitigate the financial risk of the company. It will allow users to determine what-if or simulation analysis. The user can predict the outcome of marketing campaigns, the cost of entering a new market, and the effect of price changes on the industry, among many.

Provide Financial Assistance: This Financial Model excel template enables you to begin your startup planning with the maximum assistance and least confusion. No composing equations and formulas, no designing and programming, and no need to hire a costly external consultant required.

Well-Formatted & Presented: All core 3-financial statements (income statement, cash flow, and Balance Sheet) are accurately presented and connected with the input and formatted in a well-structured way. Also, it follows a particular color theme, which is consistent in all sheets.

This Best Practice includes
1 Excel File
Acquire business license for $350.00
Add to cart
Add to bookmarks