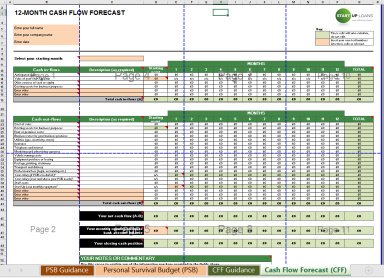 Cash flow forecast + Supplementary Personal Survival budget Excel template
Calculates the expected amount of money going in and paying out for your business over a period of time.
Start Up Loans offers you this Best Practice for free!
download for free
Add to bookmarks
Further information
The benefits from using this template are:
• It is great for planning around your business activities and resources.
• It reassures that your business activities are aligned with one another.
• It assists you in making sensible, realistic decisions for your company.
• Allows you to have better control over your business finances.
• Enables you to better comprehend your business performance.
• Supports you with planning for the future.