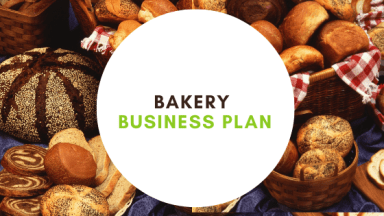 Bakery Business Plan
The Bakery Business Plan is a comprehensiv plan for your business that will structure your Idea in a well-formatted way.

by Sadaf Abbas
CEO- Oak Business Consultant
Follow 35
Description
Starting a bakery must be exciting but no an easy task. Many people have tried and failed to establish their business ideas off the ground due to a lack of planning and not sufficient enough research. This bakery business plan can help you stay organized and obtain the investment you need. This business plan prepared by an oak business consultant covers every major part of a business plan, from creating a business description to offering financial projections to potential investors.
The bakery business plan can be used to accumulate interest from potential investors or a bank. Additionally, it is helpful to you to deeply analyze every detail of your potential business. This includes things as small as the kitchen equipment you will need or as big as space or employees for your business.

This business plan pay consideration to the following points:

- Bakery Market Analysis and Industry Performance also give you a glance idea about the industry tend.
- A comprehensive marketing and promotional plan.
- Startup Summary Plan and Swot Analysis, which pitch your investors about your company strengths
and uses of funds.
- Enable you to determine who your target customers will be. This will improve your bakery marketing.
- Product description
- A detailed overview of all relevant financial statements to estimate the company's profitability.
- Is this the right time to enter this market?
- What will be the potential factor for future growth

Highlights of Bakery Business Plan
The following Bakery business plan template gives you the key elements to include in a winning business plan.
Below are the contents included in the Business Plan Template:

- EXECUTIVE SUMMARY
- COMPANY DETAILS
- ABOUT COMPANY OWNERSHIP
- PRODUCT DETAILS
- MARKET RESEARCH
- MARKETING PLAN
- WEB PLAN SUMMARY
- INTERNAL ANALYSIS
- SWOT Analysis
- OPERATIONAL PLAN
- MANAGEMENT TEAM AND
- COMPANY STRUCTURE
- FINANCIAL PLAN

How this Template will help you

Here are some pivotal benefits of this business plan, which are as follow:

To Help you in Critical Decision

This robust business plan can do a forcing function—you have only to sit down and think about your store's major components before getting started, like marketing strategy, operation plan, and what products you'll sell. An entrepreneur can answer many tough questions before they arise and think deeply about core strategies to understand how those decisions will impact a broader objective plan.

Attract Outside Funding

This business plan will enable your potential investors and banks to clearly understand your passion, also allowing them to acknowledge the flow of money and resources. Communicating clear ideas to investors will persuade them that your business is a great opportunity to get involved; therefore, they will make investments in your business venture to help you to achieve your objectives.

The Bigger Picture

This Baking Business Plan gives you the right path to connects the dots in your plan, so as an entrepreneur, you will achieve a whole snapshot of your venture. This business plan will help you to prioritize tasks and activities. By looking at the bigger picture of your venture, you can decide which challenges need to tackle first or which task to address later and enables you to allocate your effort, time, and resources strategically.

Complete Information

All updated content is included in the Business Plan with references. The user is just required to include company name, employees, and other office-related information. It is ready to go template with financials.

Enhance Co-ordination

This Business Plan primarily can use within the company as an implementation plan. This may also improve and provide more consistent performance, improved coordination, and consistency among various segments of the company. Moreover, these business plans may help to identify your business strengths and weaknesses. Along with potential problems, and emerging issues. It also set forth performance benchmarks on which expectations will be based. It also clearly delineates goals and objectives to allow for coordination and better communication between all company areas.

Mitigate Risk

The in-depth market research about the bakery industry will also help you to gain a better perspective. Along with a better understanding of the market or target audience which enables you to mitigate or minimize potential loss. It also allows you to keep up with market trends and analyze a competitive edge by sizing up business opportunities.

How to Use this Template

1- Executive Summary

This Bakery Business Plan template is providing you a professional and carefully structured Executive summary specifically for your bakery business as a sample. We know that writing an executive summary is the most vital portion of a business plan. Since the venture capitalists and many other stakeholders prefer to decide further consideration by just reading the Executive Summary. So, if they don't like what they read from this section, they might not even bother to read ahead and instantly decline the project.

The Executive Summary we provide as a sample is of great use. We made this template in a way that you can use this exact same Executive summary by just filling the blanks. We have also highlighted these blanks in yellow where you can put your company's factual information and make this Plan Template your own.

To further customize this template, you can easily also add more information specific to your company. This information may include:

- Nature and type of operation,
- To whom you sell,
- How the product is distributed,
- Business' support systems.
- Mission
- Competitive advantage
- Trade Market situation
- Social relation

2- Business Description

This Bakery Business Plan Template is providing you a general sample description for a Bakery Business. If you wish, you can use this same description without hesitation, and it will still portray your business idea to all the stakeholders. You can also choose to add more information to further customize the Business Plan. Points that you may include can involve:

- Size of the Business,
- Major players in the industry,
- Barriers to Entry,
- Target market,
- The estimated profitability,
- The macro and microeconomic factors,
- Any Special Regulation.

The above factors are only optional. You may choose to add all of these or don't include any of them. It is altogether up to you.

3- Market Analysis

We are also providing you with an up-to-date market analysis of the industry targeted to customers in the U.S.A. as a whole. If your target market is also the U.S.A, you do not have to spend time and money on this task. Use our market research and concentrate on running the business.

The sections covered in our research include:

- The targeted market for the U.S.,
- For All ages,
- Post COVID19 Scenario,
- The growth trend in the industry.

Our analysis is robust, and it also includes charts that can be easily edited to incorporate any changes you require. These charts are very important to present critical information to the readers visually.

4- Marketing Strategy

Another crucial section of this Business Plan is the Marketing strategy. Usually, businesses spend enormous effort and resources to just come up with a rock-solid marketing strategy.

In our experience, a company's marketing strategy differentiates between a successful or unsuccessful business. Since it tells your target customer about your product/ services and induces them into purchasing your products/services.

Using our decade-long experience, we have formulated this marketing strategy specific to your business industry. It provides you a very easy follow path to success. Especially for an Online Business, we would highly recommend you to use this marketing strategy without any reduction.

5- Marketing Plan

Since a Marketing Plan is a much-detailed roadmap based on the Marketing Strategy decided in the above section. So in this Bakery Business Plan Template, we have included a generic Marketing Plan, as a sample, that companies usually do within the bakery industry. You can make changes to this plan according to your specific budget as well as special requirements if any.

6- Operational Plan

An operational plan is vital for two reasons:

1- It includes details of almost all of the activities that the business will perform to achieve success.
2- It also provides benchmarks and set standards for the performance of the employees and the business.

Having benchmarks helps a business thrive and perform even in the most difficult times, such as the Year 2020. It also makes an evaluation of the performance easier. As well as reduce the response time of a business to any uncertain event by having contingency plans in hand.
You can also use this template as a guide for this section and include the activities you plan to implement into your business plan. The activities will relate to:

- Operational and production management,
- Human resources planning,
- Marketing objectives,
- Financial management,
- The allocation of staff.
- Your quality control measures
- Risk Management practices,
- Internal control systems,
- Risk Assessment procedures,
- What-if scenarios to mitigate these risks.

7- Financial Plan

A complete sample of a professionally constructed financial plan is also present in this Bakery Business Plan Template.
In all its glory, this template also consists of tables and graphs/ charts that are easily adjustable. We also made all the sections change easily into your color scheme, and the numbers can be changed easily to depict your actual Financial Information.

For your ease, we have highlighted those words which require changes in the business plan. To save your time, you only have to see highlighted words and replace them accordingly.
This Best Practice includes
1 Doc File
Acquire business license for $400.00
Add to cart
Add to bookmarks