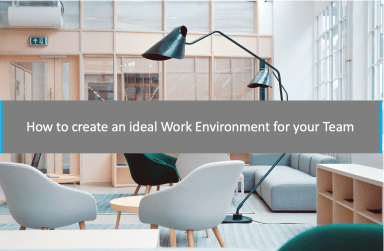 How to create an ideal Work Environment for your Team
Discover how to create the ideal work environment for your team
Introduction
Do you want your employees to be efficient and productive? You have to take work environment into account. In fact, according to the Baromètre Actinéo 2019 on the quality of life at work, the employees who were asked consider that their workspace has on impact on their health (50%), their well-being (48%) and their motivation (43%).


Discover what the work environment is and take advantage of 6 tips to create the ideal work environment for the well-being of your colleagues.


What is the work environment?


The work environment brings together all the conditions that are lived in the workplace. It is both the framework and the atmosphere in which your colleagues carry out their daily tasks.


The work environment consists of several elements:


• the layout of the workplace, that is to say, the furniture, the equipment, the workspaces, the lighting, the temperature, the decor, the presence of a room for breaks and meals, the possibility of keeping yourself to yourself if you need to, etc. ;
• the human relations: the agreement with the person in charge, the atmosphere within the team, whether or not there are tensions or conflicts, etc. ;
• the culture of the company: the type of management, the perks and the services offered to employees (restaurant, gym, creche, etc.), the pressure, the balance between private and professional life, etc. ;
• Hygiene and security: a sufficient number of toilets, clean and sanitary premises, etc.


The work environment directly influences the well-being of employees and the quality of life at work. Today, these two ideas are becoming essential as they have an impact on productivity and the performance of your co-workers.


In fact, a toxic or unsuitable environment will prevent your employees from blossoming at work and getting involved in their tasks. Conversely, a positive work environment will encourage your colleagues to invest more and to give the best of themselves because it is well known, a happy employee is a high performing employee. 


6 tips for creating an ideal work environment


Here are 6 tips for creating a pleasant and stimulating work environment within your business and thus improving the well-being of your colleagues. 
Step n°1 |

1. Don't neglect the importance of colours

Did you know that colors have an influence on our perception, our emotions and our behavior? Numerous scientific studies have proved that colors have an impact on our concentration and learning skills as well as our creativity. Jean-Gabriel Causse, designer-colorist, wrote a book on the subject, called 'The Power of Colours'.


For example, cold colors, like blue or purple, appease and encourage creativity whilst vibrant colors such as red or yellow are stimulating. Generally, productivity is increased in offices with colored walls that offices with white walls. White would even tend to tire employees (Elif Öztürk, 2010). On the other hand, avoid dark colors like black or dark blue, as they have a sedative and demoralizing effect.


At the office, the choice of colors depends on, above all, the work of your employees. If they are regularly under pressure and do stressful work, favor cold colors to relax them. If, on the contrary, their daily tasks are monotonous, stimulate them with radiant colors.  

Step n°2 |

2. Bet on natural light
add_shopping_cartContinue reading for free (70% left)