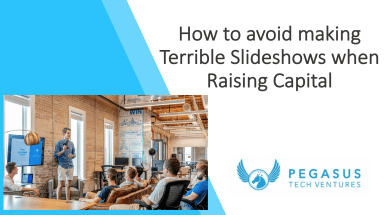 How to How to avoid making Terrible Slideshows when Raising Capital
Avoid the most classic errors when creating slides aimed at investors with our top ten list of industry faux-pas!
Introduction
With all the blogs, videos, books, coaches and workshops for creating compelling presentations, how can it be that we are still inundated with pitch decks full of terrible slides? Okay, it's really easy to criticize. It's really hard to design brilliant slides that communicate your key points clearly.

Most articles and blogs on slides focus on design – fonts and graphics, etc. I want to focus on substance and content. My hope here is to steer you away from common messaging mistakes, and show you what investors are really looking for.
Step n°1 |

Financial Projections

Increasingly, entrepreneurs are leaving this slide out of the deck. Too many investors have told them, "I know you're just making the numbers up, so I don't bother to look at them." Still, most savvy investors want to see that you understand the economics of your business. So, entrepreneurs just put up a crazy hockey stick. They all look alike, they are really hard to read, and none of them are credible. Please: Show a table, not a graph, with a limited set of numbers, and then highlight the three or four key numbers on the table – when you become cash-flow breakeven, how much capital you need to get there, what your revenues are in year five, and how many customers you have to get to meet your numbers. Before you try to convince us that you will be a $256 million company in five years, do your research and find successful companies that are comparable to yours, and then emulate their path to success in your numbers. If you can identify another company that is similar and successful, you will dramatically improve the credibility of your financial projections.

This is usually the most boring slide in the deck. Rarely does a startup company actually start out with a team that is World Class. Nevertheless, entrepreneurs try to snow us with a cloud of logos showing that someone on the team actually visited Stanford once and uses Google products. We don't expect you to have a world class team day one. We just want to know that you can attract and build a world class team. Please: Tell us why this team is the right team to execute against your critical milestones in the next 12 months, and show us that you understand where the key gaps are that you intend to fill. The fact that someone went to Harvard Business School is largely irrelevant. (Some investors might consider that a negative). What is more important is that the individual is, for example, particularly qualified to land the first three beta customers.

Step n°3 |

Traction and Milestones

This is an extremely important slide, and yet it is frequently missing from pitch decks. Often we find ourselves having to ask after the pitch, "Where exactly are you now?" Product, customers, revenues, funding, team? At the other end of the spectrum, the slides we do see are frequently unreadable because there are so many marginal milestones listed. "Reserved URL." "Opened office at WeWork." "Finalized logo." Please: Tell us the two or three most amazing achievements to date, and the two or three major hurdles you're going to accomplish in the next 12 to 18 months. This is your chance to demonstrate that you understand your highest priorities, and you are execution oriented.
add_shopping_cartContinue reading for free (70% left)